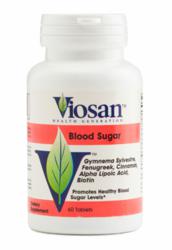 Kissimmee, Fla. (PRWEB) November 14, 2012
Viosan Health a manufacturer of vitamins and nutritional supplements, is proud to promote American Diabetes Month in November by offering its blood sugar supplements to the public.
Diabetes is a disease in which high blood sugar (glucose) levels occur from a lack of insulin or the body's resistance to insulin from diabetes treatments. It can come in one of three forms: type 1, type 2 and gestational. Causes of diabetes include genetics, an inactive lifestyle and a diet that is high in fats and sugars. Symptoms of diabetes include extreme irritability, hunger, thirst and fatigue, unusual weight loss, frequent urination and numbness in hands or feet.
About 26 million Americans have been diagnosed with diabetes. Due to the rising obesity rate in the United States, diabetes will become increasingly prevalent in this country. It is estimated that one out of every three American adults will have diabetes by 2050.
Established by the American Diabetes Association (ADA), American Diabetes Month promotes awareness, prevention and treatment of diabetes. The ADA has created various events and educational programs to raise money for funding diabetes research. For more information about the organization, visit http://www.diabetes.org.
Maintaining a normal blood sugar level is essential. Anyone can monitor his or her blood sugar level using at-home blood glucose tests. In addition to proper dieting and exercise, certain vitamins and dietary supplements may help with diabetes prevention. In addition, the mineral magnesium can help facilitate lower blood sugar. Viosan Health's Blood Sugar supplement contains natural ingredients, such as extract from cinnamon bark and fenugreek, that can help lower blood glucose levels. In addition, the nutritional supplement contains magnesium, a mineral that can not only help lower blood sugar, but also help build strong bones and keep a normal blood pressure level.
About Viosan Health
The founders of Viosan possess decades of successful and progressive experience in both the healthcare and health products industries. The company is committed to improving the health of every customer by offering a line of pharmaceutical quality vitamins and supplement products that target core health issues and promote healthy living. Viosan Health's doctor-formulated products are distributed by physicians and other health professionals, who recommend the brand to their patients and family members. Many of these same health professionals take Viosan Health products as part of their own strategy for maintaining optimal health, vitality and longevity. All products are made in adherence to strict manufacturing standards as contained in FDA cGMP's (verified current good manufacturing practices). Visit ViosanHealth.com for more information or to purchase vitamins and dietary supplements online.