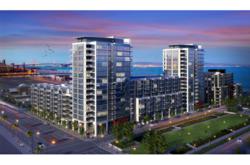 Madrone is very much the luxury brand for homes at the moment. Like a high-end sedan, luxury comes standard. Unlike other developments, there are not multiple packages on offer - you don't get to pick finishes. Everything is high end and comes standard.
San Francisco, CA (PRWEB) April 30, 2012
Vi Pavlicevich of CLIMB Real Estate Group sees a bright future for San Francisco's Mission Bay. Searching for the perfect place to raise her young family, Vi turned to Madrone and Mission Bay as a quieter alternative to the bustle of downtown, with the added bonus of convenient transportation to stay in touch with the urban lifestyle she adores.
Starting a family requires several things: super human energy, nearly endless patience, and if you're lucky a loyal support network to help along the way. It's also an experience that's best shared with family and close friends. As a Bay Area native, Vi Pavlicevich knew that San Francisco was the only place her young family belonged, the only question left was where to settle down. After surviving three Chicago winters, returning home and setting up roots in the right neighborhood was key. In such a dynamic and fast paced city, making the best financial investment on a home would also be important, setting the family up for fiscal well being or potential struggles down the line. With a keen eye for a bargain and a family in her priorities, San Francisco's Mission Bay leaped out as the clear destination.
Vi was raised in the Bay Area originally, but moved with her high school sweetheart, later to be her husband, to Chicago for his job in 2008, right at the onset of the financial crisis. As Vi explains, "The cost of living was very affordable. We were able to purchase a 48th story home in a 50 story building, and pay around $400,000 for a home that would have been easily over a million in San Francisco." Chicago's lagging real estate market meant prices for homes were at an all time low, with home prices at 60-70% of their previous sales prices. As an interested investor, Vi took advantage on this unique opportunity to heavily involve herself with the growing market for distressed property resale. By taking a proactive approach in locating and predicting future mortgage values on a huge array of homes, she became a seasoned veteran in foreclosure and short sell properties.
Having succeeded in her multiple investments in Chicago, Vi returned to her home city in 2011, looking for a comparable neighborhood; a place where she could buy a home and watch her investment increase in value. Her time in Chicago had taught her first hand: "buying a home is not only choosing the place you are going to live, it is an important financial investment." Selecting a home that will increase in value over its life is an essential part of the home buying process.
With a passion for urban lifestyle, Vi looked for a luxury highrise that would fit her needs. A lacking inventory in new construction meant that the choices were limited, with developments like One Rincon Hill, One Hawthorne, and the Infinity in her sights. However, one development stood out from the rest. With its high end finishes, convenient location, waterfront views, and very affordable cost per square foot, Bosa's Madrone made the most sense for Vi and her husband, Ariel. Ariel, who works at a hedge fund in the financial district, felt that "buying in Madrone has a clear investment purpose. At $550 per square foot, Madrone is a true bargain, compared to the average of around $850 per square foot to other downtown highrises." Predicting fast growth in the Mission Bay neighborhood, Vi and her husband anticipated an upside to their investment in 3-5 years.
As Vi puts it, "Madrone is very much the luxury brand for homes at the moment. Like a high-end sedan, luxury comes standard. Unlike other developments, there are not multiple packages on offer - you don't get to pick finishes. Everything is high end and comes standard." This screamed 'strong investment' to Vi and her husband. As one of the first people to purchase at Madrone, signing her contract in July of 2011, Vi had the opportunity to look at all the available floorplans, investigating every unique unit: units with park side views, bridge side views, and the high rise homes. Eventually she decided on the townhouse option, noting the spacious floorplan, and accompanying affordable price tag as incredible values in San Francisco.
"Madrone was built at exactly the right time. Expectations from a developer stand point are incredibly positive, especially as the San Francisco market continues to heat up," according to Vi. For the first time in nearly 4 years, developers are regaining confidence in the new construction market, meaning even more new development announcements to come. Although details are scarce now, Bosa is planning a third development along the Mission Bay creek, and with the current demand for new homes, Vi expects construction to begin within the next 3 years.
Right now Madrone is selling quickly with many of the 329 available units in contract. Even with high pre-construction sales numbers, Vi has noticed many potential buyers timid to buy before seeing the actual units. "Those with vision can see a valuable investment, especially with the market trending in the direction it is. As inventory lags demand, people will be more inclined to look to Madrone further into the year."
With her passion for real estate, Vi has turned her focus to helping first time home buyers find their dream home, using her skills as an investor to her advantage. Throughout her career at CLIMB Real Estate Group, she's noticed that a lot of buyers live and work in the South Bay, but are interested in the urban lifestyle of San Francisco. Clients tend to want to take the time to familiarize themselves with the city first before settling on a final neighborhood to live in. "I take a lot of first time home buyers through all the different neighborhoods of San Francisco to find the one most suitable for them.
What's most important is finding the most comfortable environment." Vi has noticed that her clients, and tech workers especially, are drawn to high rises and new construction, with an appreciation for the social scene in SOMA. Mission Bay has become very valuable to tech workers working in the South Bay, being so close to Caltrain, which offers easy morning commutes. Without the fevered pitch of morning traffic, many Mission Bay residents can count on catching up on reading or work every morning on their trip to the South Bay.
Vi sees a bright future for Mission Bay, with property values to rise with the development of the surrounding neighborhood. Recent additions include a brand new school in Mission Bay, the new UCSF campus, as well as numerous parks and housing developments. Vi doesn't predict Mission Bay will to turn into the suburbs though: "It will feel more neighborhood-y, with walking distance to restaurants and tons of new commercial properties. Throw in the easy access to Muni, and Mission Bay will be a real up and coming neighborhood." Building along the waterfront is expected to keep growth at a medium pace, with San Francisco's planning committee pledged to keep the waterfront district as renovated and beautified as possible. Vi envisions the Mission Bay in five years as a blend of South Beach and Mission Bay North.
Having just celebrated her baby boy's first birthday, Vi is looking forward to moving into her new Madrone home and taking advantage of the roomy floorplans and nearby parks. To speak with Vi about buying a new home in the city or to get an insider's perspective on Mission Bay, you can drop in and see her anytime at the Climb Real Estate design center, or get in contact via email at vi(at)climbsf(dot)com.
About Climb Real Estate Group: Climb Real Estate Group is a full-service general real estate brokerage with an emphasis on the purchase, sale, rental and marketing of select residential new developments, commercial and premier resale properties. We concentrate in condos, high rises, lofts and homes in South Beach, SOMA, South Beach, Mission Bay, Rincon Hill, Potrero Hill and Central Waterfront. Our focus is on urban-style properties, specializing in new construction, historic loft conversions, live/work spaces, Victorian flats, modern condominiums, and stylish single-family homes. We also have exclusive access to Off-Market Listings, Foreclosures and Developer Specials.