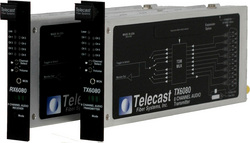 With the two new modules, we're continuing the tradition of offering the industry's most flexible and extensible fiber optic transport system.
Worcester, MA (Vocus) September 10, 2010
Telecast Fiber Systems today announced the launch of two new sets of transmit and receive modules for its popular Viper II fiber optic video transport system. The new Viper II 6340 link is a transmit-and-receive system for simultaneous transmission of digital video, analog video, and 24-bit audio, all on a single fiber optic cable, while the 6080 module pair provides an eight-channel audio-only link. Like all modules in the Viper II series, both the 6340 and 6080 may be used in standalone "throwdown" mode or may be combined with other modules within the Viper II rack – making the Viper II the most versatile and flexible fiber optic transmission system in the industry.
The new 6340 module pair is the industry's most cost-effective and compact solution for the simultaneous transmission of SDI (HD or SD) video, composite video and four channels of broadcast quality audio in one direction, all across a single fiber optic strand for distances up to 30 km. The SDI path will automatically detect and transport either a 1.5 Gb/s uncompressed HD/SDI video stream (SMPTE 292), or a industry standard 270 Mb/s SD/SDI stream (SMPTE 259).
The new 6080 pair of transmit and receive modules efficiently multiplex and transmit eight channels of analog audio onto a single fiber, providing more than 20 kHz of audio frequency response with extremely low distortion. Like all Viper II modules, the 6340 and 6080 are affordable and easy to install, and they now provide integration with SNMP monitoring systems.
The Viper II series is a modular, rack-mounted system for high-quality video transport over fiber, providing a flexible 16-slot card frame for adding or removing individual modules as the broadcaster's requirements change. When not in use as throw-downs, the hot-swappable modules can be combined and re-combined as required within the Viper II frame. The Viper II system enables fiber optic video transmission for a wide range of Telecast Fiber Systems customers including studio and campus broadcasting facilities; pre-fibered facilities such as sports venues, airports, and malls; and government and military operations.
"Broadcasters today need flexibility and room to grow, and not everyone wants to start out with a complex layer of video and audio signal components — but when they're ready, a combination of Viper II rack frames and stand-alone throw-down modules becomes a powerful fiber backbone for their operation," said Jim Hurwitz, director of product management for Telecast Fiber Systems. "With the two new modules, we're continuing the tradition of offering the industry's most flexible and extensible fiber optic transport system."
All Viper II systems and modules are available directly from Telecast Fiber Systems, or via a network of authorized dealers. For more information about Fiber Optic Applications in ENG and SNG download our white paper. For a demonstration of the Viper II modules visit Telecast Fiber Systems at IBC2010, stand 10.B39.
About Telecast Fiber Systems, Inc.
Telecast Fiber Systems, Inc. is the company known for its portable and fixed fiber optic systems for television broadcast production. Telecast's video, audio, and communications systems are used worldwide by TV networks, teleproduction companies, sports venues, and various private, educational, and government and military organizations to extend range, simplify cabling, and reduce labor costs and set-up time. Telecast systems have helped usher in the age of HD television production, and the company now is active in the development of 3D HD TV production. Telecast Fiber Systems is a subsidiary of Belden (NYSE: BDC), a leader in comprehensive signal transmission solutions for fiber, cable, wireless signal, and industrial networking applications.
More information about Telecast Fiber Systems can be found at http://www.telecast-fiber.com.
###