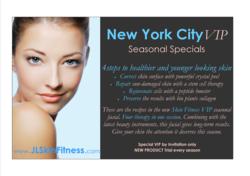 The seasonal facial is a must if you want to maintain the results of looking great, healthier and younger than your age. Julie
New York, NY (PRWEB) August 09, 2012
Julie Lindh, the creator of the popular Skin Fitness line of facial treatments and all-natural products has added a new premier service to her treatment menu. While the original 4-step Skin Fitness regimen is available through Lindh's New York City and Sweden-based offices, as well as licensed apprentices at high-end day spas and aesthetician offices, the Skin Fitness VIP seasonal facial will be reserved for skincare VIPs only.
The new facial provides four therapies in one session to illicit long-term results. Skin is treated first to a powerful crystal peel that helps to correct damaged and prematurely aged skin. Following the peel, sun-damaged skin is treated with a plant-based stem cell therapy to repair each level, before cells are rejuvenated with a peptide booster that improves skin's overall appearance. Finally, skin is preserved with bio plant collagen that aids in an improved and sustainable condition for several weeks, and even months.
Using the most advanced skincare science available, the ingredients in the VIP facial are loaded with vitamins, minerals and antioxidants that are medically proven to reduce the appearance of fine lines and wrinkles, slow the signs of premature aging and minimize the effects of damage caused by the sun.
The limited-availability Skin Fitness facial is available to a select number of patients each season. VIPs also have the opportunity to preview, test and provide feedback on new additions to Lindh's Skin Fitness and Miss Julie product lines. For more information on the program, visit the http://www.jlskinfitness.com.
About Julie Lindh
A trusted skincare expert and licensed aesthetician who has been working with clients to achieve healthy glowing skin for more than 15 years, Julie specializes in an integrated approach to beauty and skincare. Fueled by a desire to find alternatives to Botox and plastic surgery, Julie developed a four-phased skincare approach, which targets all layers of the skin from the deep muscle foundation to the surface, to improve collagen levels, reduce deep wrinkles and provide the balance skin needs. Using a combination of non-invasive treatments, nutrient-rich products and facial muscle fitness, her system provides remarkable results.
Julie's services have been sought after by high-end spas and celebrities around the world who are seeking exceptional skincare without going under the knife. Called a "personal trainer" for the skin as well as the soul, Lindh is considered a true innovator and pioneer in the industry. The services offered in her NYC and Sweden based offices are customized, and are provided only after Lindh completes a full skin analysis of each patient. She also travels the world to cater to clientele, including A-list celebrities, socialites and high-end day spas.
JL SkinFitness by Julie Lindh is located Flatiron, NYC. Julie also has an active blog, Facebook and Twitter presence.