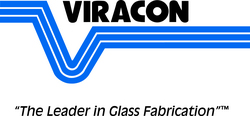 "Glassec has built a tremendous business in Brazil, and its business strategy aligns closely with that of Viracon – serving complex commercial projects with high-quality, energy-efficient glass," says Greg Silvestri, Viracon's president
(PRWEB) November 20, 2010
Viracon, Inc., North America's leading architectural glass fabricator, announces an expansion into Brazil and Latin America. Viracon has acquired 100 percent of the stock of Glassec Vidros de Seguranca Ltda, the leading architectural glass fabricator in Brazil. Glassec will become part of Viracon and be called Glassec Viracon.
"Glassec has built a tremendous business in Brazil, and its business strategy aligns closely with that of Viracon – serving complex commercial projects with high-quality, energy-efficient glass," says Greg Silvestri, Viracon's president. "We look forward to working with the Glassec team to learn more about this key emerging market and help bring Viracon's capabilities to these markets."
Founded in 1991, Glassec has become Brazil's leading architectural glass fabricator and is known for its high-quality glass fabrication, on-time deliveries and strong technical support. The company's 100,000 square-foot fabrication facility is located 90 minutes outside of Sao Paulo, Brazil and has 250 employees.
"We're pleased to join a financially-strong, global leader in glass fabrication," said Dario Farhat, general manager of Glassec Viracon. "We are looking forward to capitalizing on the synergies of the two companies and drawing on Viracon's expertise to better serve our customers, and expand our market share in Brazil and Latin America. In addition, joining the Viracon family will provide more opportunities for our employees and our customers."
The existing management team will continue to lead the company with Dario Farhat reporting to Greg Silvestri.
Viracon has pursued an aggressive international strategy in recent years and currently has a growing presence in Asia, Australia and the Middle East. The company recently won the Minnesota Governor's International Trade Award for its excellence in international business.
For additional information, call 800-533-2080 or visit http://www.viracon.com.
About Viracon, Inc.
Viracon is based in Owatonna, Minnesota, and has facilities in Statesboro, Georgia and St. George, Utah. Viracon produces high-performance glass products, including tempered, laminated, insulating, silk-screened and high-performance coatings, for North American and international markets. The company is a subsidiary of Apogee Enterprises, Inc. (NASDAQ: APOG). Apogee, headquartered in Minneapolis, is a leader in technologies involving the design and development of value-added glass products and services.
About Glassec
Glassec, founded in 1991 and privately held by the Abrahão Farhat family, is located 90 minutes outside Säo Paulo, Brazil, in Nazaré Paulista, where it produces a broad range of glass types for non-residential buildings – laminated, insulating units, tempered, heat strengthened and silk-screened. It operates in a 100,000 square foot facility with 250 employees. Glassec is known in Brazil for its high quality in glass processing, on-time deliveries and strong technical support to customers. Glassec creates, develops and supplies solutions which add value to flat glass.
###