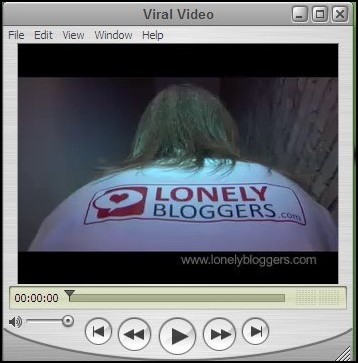 LBTV is our .com Super Bowl Ad without spending the millions of dollars to create, promote and distribute it.
Toronto, Canada (PRWEB) April 3, 2007
LonelyBloggers.com a new free dating website, joins an already saturated market with competitors that are extremely well-funded and spend millions of dollars a year on advertising. How does a new entrant compete in the personals space with companies that can outspend us many times over?
The company originally thought about simply buying search engine CPC keyword advertising, but quickly learned that keyword advertising doesn't really make sense anymore in this modern marketing age. Ads have to be more compelling than simply clicking on a text link.
After observing other dating companies competing against each other in search engine traffic wars, bidding for keywords relating to dating (often well over $1 per click), we realized we needed to go viral in order to get the results required to grow LonelyBloggers.com
With the emergence of broadband penetration and the popularity of video sharing sites, we also thought that video may be the most effective way to generate awareness of the LonelyBloggers.com brand without needing a big marketing budget.
Viral video is definitely evolving beyond the traditional 30-second clip. Content is still king and we took that approach while developing our viral video series. It's also one of our core beliefs that LonelyBloggers.com should share the results from our viral video experiment in the form of a marketing case study. Since video advertising over the web is brand new, we'll be releasing the results of our video advertising campaign, so other companies can learn from our wins and losses. You can't predict viral and you can't predict cool. The notion that good content gets noticed should still apply to online as well. There needs to be substance.
LBTV Viral Video Series is a 7 episode, 40 minute viral video series and can be watched on YouTube now.
Objectives - Our goal for the LBTV viral video series is to be viewed at least 500,000 times and generate 2500 signups. Our key strategic issue is whether or not video can effectively drive traffic and sign-ups back to LonelyBloggers.com
Despite recent reports that a viral video now cost up to $250,000 to produce, LonelyBloggers.com was able to produce our viral videos with only a $5000 budget.
Thinking of integrating video into your marketing mix?

Videos don't disappear after people click on them like traditional CPC ads
Video can be shared, emailed, embedded into blogs and is indexed by search engines
Video can enhance your brand image and build relationships with people visiting your site
Video can be re-purposed in a variety of ways, including TV advertising
Video can be uploaded to literally hundreds of video sharing sites
Video doesn't have to be expensive and can be done with a simple webcam
Unlike the late 90's where .com startups spent millions to get their brands seen, web2.0 is all about leveraging blogs, social networks and other free distribution channels to get the word out. "LBTV is our .com Super Bowl Ad without spending the millions of dollars to create, promote and distribute it."
Internet dating can be dangerous, especially if you make the mistake of offering any personal details about yourself. LonelyBloggers.com has produced an Internet Dating Safety Tips video to help generate awareness of dating safely online.
Despite recent reports, bloggers are not lonely people. In fact, bloggers tend to be hyper-communicators that seem to be very well adjusted to society and have elevated social skills as a result.
With so many dating sites on the internet, LonelyBloggers.com is the only personals service that targets bloggers. Members can also add their social media urls from services like MySpace, Facebook, YouTube, Twitter and Flickr amongst others.
We use the term viral video often in our communications, but we think the LBTV series is more about branded-content leveraging free distribution channels like YouTube.com instead.
It's great to be a startup in this "so-called" web2.0 age. Startups today can easily integrate maps, content and services literally overnight because of the choice of different API's and widgets available to us from a variety of sources. LonelyBloggers.com as a small company still has the flexibility to re-invent itself over night.
Members can leave video comments on our blog and member forums, which makes LonelyBloggers.com a very sticky site to visit. We use our blog and forums as secondary acquisition and retention tools to keep people coming back to the site.
Husband and wife team Producer/editor Michelle De Long and Director/editor David Miller are the creative and production minds behind LBTV and lonelybloggers.com viral videos. Through Michelle's television company Mimi Productions and Dave's feature film company Mindlight Films they together have created a new agency solely for internet based branded advertising and entertainment, viralfilmvideo.com
Michelle is a 15-year veteran of television programming and network news and Dave has produced 11 feature films. With their years of experience they both see the future drifting towards embedded advertising in entertainment videos. While this is nothing new in the television and film landscape, with product placement, Michelle, Dave and their production partners see the future in products and brands that are the show. Now that streaming video on the internet has exploded with hundreds of video sharing sites, it is the perfect time for the creation of a new type of brand specific visual medium. The difference for viralfilmvideo.com and a traditional ad agency is that the team behind it understands that overhead must be low and creativity must be high. By working with small companies that may or may not have a marketing department and who can't afford a traditional ad campaign or ad buys on tv, viralfilmvideo.com can give them a leg up but placing longer form entertainment ads on the internet.
For more information about LonelyBloggers.com we suggest you visit the LonelyBloggers.com blog which tells our story.
###