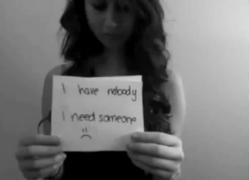 Her video was simultaneously a work of art and a devastating plea for help and friendship.
Buffalo, NY (PRWEB) November 22, 2012
The editors at Brainfilter have named their top 5 viral videos of 2012.
This was not a popularity contest (or else Taylor Swift and Justin Beiber would dominate the top 5). Instead, Brainfiter selected videos based on their artistic merit, newsworthiness and cultural impact.
Sadly, Amanda Todd's suicide (video) letter is at the top of the list.
Todd, 15, committed suicide after a long battle with bullying (both online and offline) and depression. Her YouTube video, "My Story: Struggling, bullying, suicide, self harm" went viral shortly after her death.
"Amanda told her story in a silent—and effecting—black & white video," says Brainfilter founder Richard Finch. "She used nothing but home made title cards to tell her story. Her video was simultaneously a work of art and a devastating plea for help and friendship."
Todd's video and subsequent death turned up the volume on the already on-going international dialogue concerning bullying. ("Amanda Todd case highlights issue of online bullying," The Telegraph — 16 October 2012) "By leaving behind a video letter, Todd turned an academic discussion on bullying and suicide into something much more urgent and palpable," says Finch.
Months later, Todd's story has left reverberations that continue to make headlines.
"I still can't get her out of my head. And it really upsets me that Amanda's video has received only a fraction of the views of some random pop song on YouTube. I hope that by featuring her video as our top pick of the year, we can help this story live on or else she truly died nothing."
Here's the full list of Brainfilter's Top 5 Viral Videos of 2012
Amanda Todd — My Story: Struggling, bullying, suicide, self harm
Kony 2012
Voting Machine Altering Votes
Making The Bus Monitor Cry
Gangnam Style
Visit Brainfilter to watch these and other popular viral videos.
For more information contact Richard Finch
(716) 226-8971
mediabooru(at)gmail(dot)com
http://brainfilter.tv
ABOUT BRAINFILTER
Brainfilter is a web portal that curates the best viral videos on the web.
According to Cisco more than a third of overall Internet traffic is used on video. By 2013 video will account for a staggering 90% of overall Internet traffic.
"There is a tremendous glut of video content on the web," says Brainfilter founder, Richard Finch. "And people are finding lots of videos through social networking. But just because something is popular, doesn't mean it's any good. We don't blindly feature videos that have gone viral. The purpose of Brainfilter is to feature content that's really smart, clever and substantial. The kind of stuff that you'll still want to watch years from now. We're not interested in cute kittens and giggling babies—not that there's anything wrong with that."