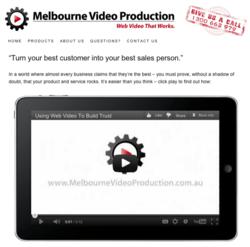 It's one of the very rare forms of marketing where customers are happy to promote the advertisement direct with their friends and family, in a blink of an eye.
Melbourne, Victoria (PRWEB) May 27, 2012
Last week, global athletic wear company Nike, created a web video frenzy with the release of their new advertisement "My Time is Now." The YouTube video hit 3 million views in only three days and features an all-star cast of footballers. The video release coincides with the beginning of the Euro Cup and, as of today, is currently nearing 13 million YouTube views.
Businesses are becoming more familiar with web video as a means to get their advertisements straight to their target audience, with major international retailers now re-focusing their marketing dollars in online advertising.
"The ease at which viewers can watch and share web video ads helps produce these kinds of astounding numbers," comments David Jenyns, marketing expert and creator of Melbourne Video Production, "if they like a video, they simply click a button to share it with their friends or post it on Facebook."
At this fast pace, the lengthy Nike ad will surpass their previous viral success "Write the Future," which was released in 2010 and topped out at 28 million YouTube views.
"I've been producing web videos for years now," Jenyns comments, "and learned quickly it's one of the very rare forms of marketing where customers are happy to promote the advertisement direct with their friends and family, in a blink of an eye."
Other multinational companies, like Old Spice (a men's fragrance company), have produced viral videos with great success, which have even spurned off copycat web videos from fans. But, viral web video isn't just for large corporations with deep pockets.
"Any business can produce an effective web video advertisement," says Jenyns, "and most people already own the equipment required to get started." With a majority of new mobile phones having built-in video cameras with interfaces that allow the user to automatically upload the recording into YouTube, it means web video marketing is now open to everyone.
By using YouTube as the venue to distribute web video ads, the playing field for business marketing has been levelled. It's no longer a matter of purchasing prime-time television spots, or paying thousands of dollars for full page ads; all you have to do is upload to YouTube.
"Even at the most basic level, it's better to have something in video format online," explains Jenyns, "than nothing at all." David Jenyns' company Melbourne Video Production specializes in packages for small to medium businesses, making web video production accessible to all budgets.
"It's no coincidence that large companies like Nike are using web video to market themselves" comments Jenyns, "it's cheap, effective and fast, and it's time for small to medium businesses to follow suit."
About Melbourne Video Production
http://www.melbournevideoproduction.com.au/ is a division of MelbourneSEOServices.com, a full service search engine optimization (SEO) consultancy, based in Australia, but with a worldwide client base.
Melbourne Video Production has the unique ability to combine their web video expertise with strategic SEO practices from Melbourne SEO.
Director, David Jenyns, has, over several years, built a team of experts who are niche experts to support the business, and who share his ethos for ethical, professional internet marketing and web video.
More about David Jenyns at http://www.davidjenyns.com