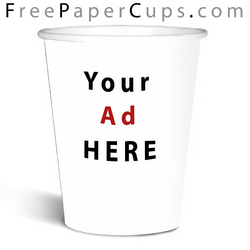 While Free Paper Cups is a new marketing tactic utilized to reach and influence business decision makers and consumers In-Office and In-Workplace, our unique Out-of-Home advertising program is also a helpful method to reduce corporate expenses and save the environment
Washington, DC (PRWEB) April 28, 2009
FreePaperCups.com, a viral marketing firm specializing in non traditional advertising, today invited companies both large and small in the United States to register for free paper cups that are earth friendly and compostable.
Sponsored by national brands launching new products as well as regional advertisers, these "green" free paper cups are available for offices and workplaces. Since the free paper cup lining is made from domestic plants and not oil, the certified eco-friendly cups are compostable within 60 days.
"While Free Paper Cups is a new marketing tactic utilized to reach and influence business decision makers and consumers In-Office and In-Workplace, our unique Out-of-Home advertising program is also a helpful method to reduce corporate expenses and save the environment," said Joey Preston, vice president of marketing of Free Paper Cups. "FreePaperCups.com specializes in handheld branding and b2b marketing inside the workplace - ensuring employees see, touch, and hold exclusive advertising messages throughout the work day."
Free Paper Cups in targeted offices build buzz around the water cooler, create positive word-of-mouth and drive workplace Internet traffic to the advertisers' websites.
Utilized by a variety of employees including executives, corporate decision makers and professionals during the workday in meetings, offices and conference rooms, the branded advertising cups are perfect for hot and cold beverages. Free delivery of the paper cups is complimentary as well. Companies can apply at http://www.FreePaperCups.com .
"Cutting costs and saving money is a major priority for any sized business whether a company employs a staff of 20 or is a Fortune 500 corporation with a staff of twenty thousand," added Preston. "We are excited about helping American companies climb out of this recession...one free paper cup at a time while helping our environment."
According to a Gallup Poll Survey, more than 52 million Americans obtained coffee from their offices each day and nearly 109 million American adults drink coffee daily.
Based in Washington DC, FreePaperCups.com (http://www.FreePaperCups.com ) is a division of Vision North America (http://www.VisionNorthAmerica.com ), a leading marketing solutions firm dedicated to helping small, medium and large companies compete and win in the marketplace. Vision North America skillfully executes on creative marketing strategies and innovative advertising tactics for the purposes of helping its clients sell more of what they offer the world.
###