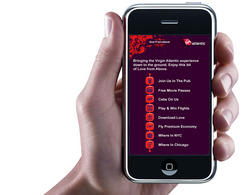 Shouldn't Flying Be Art?
South Norwalk, CT (Vocus) February 11, 2008
Virgin Atlantic Airways, one of the world's leading long-haul airlines, today announced the launch of its new US marketing campaign, Love from Above. The new campaign builds on the airline's history of unparalleled service and innovation on behalf of the traveler, including the newly unveiled Premium Economy cabin, which is now featured on every flight from the US.
The campaign challenges travelers' expectations of air travel with questions such as "Shouldn't a seat recharge more than your laptop?" and "Shouldn't Flying Be Art?" while conveying the friendly service that has differentiated the airline since its inception.
"For 24 years we've approached flying differently, treating our passengers like guests and innovating on their behalf. In recent years we've been known for the distinctive features in Upper Class, such as the complimentary limo service and onboard bar. Love from Above reminds travelers we deliver a phenomenal experience regardless of where they sit on the plane," said Aimee Young, head of brand and advertising, Virgin Atlantic North America.
The campaign represents a new direction for the airline's advertising, introducing a highly visual red and purple art direction designed to infer both style and whimsy, with an eye-catching paisley pattern suggestive of iconic British design.
Developed with their agency of record, McKinney, the campaign will be rolled out in online and out of home executions in the 10 major metropolitan markets in which Virgin Atlantic operates to London including New York, Chicago, Los Angeles, Boston, Washington, DC, San Francisco, Miami, Orlando and Las Vegas.
David Cook, McKinney Group Creative Director on the account, stated:
"Throughout the industry, travelers are being inundated with the same messages. Across the board, they see price ads or are constantly reminded of how bad air travel is. Love from Above is the direct opposite of all that. Since we can't get everyone into the plane, we decided to celebrate here on the ground what makes Virgin Atlantic unique, and spread the love, so to speak. Traveling doesn't have to be a boring, stuffy affair and Love from Above helps Virgin Atlantic connect with people who see travel the same way they do."
Love from Above took flight with a 2-week experiential launch that brings the in-flight experience to the ground in New York City and Chicago. London landmarks projected throughout the skylines of both cities invite the target to the company's first ever WAP site, http://LoveFromAbove.mobi, which is accessible by any cell phone or smart device equipped with an internet browser. On the site, one can learn more about the complimentary taxi rides in wrapped London cabs, British pub events, and free movie passes designed to convey the surprises travelers experience onboard. The launch will culminate on Valentine's Day with a surprise for busy New Yorkers , Chicagoans, and Virgin Atlantic passengers.
Around the world, the Virgin brand stands for a better choice at a better value. Consistently challenging industry norms, Virgin Atlantic offers services that exceed customer expectations while providing outstanding value. The Love from Above campaign seeks to spread the Virgin Atlantic experience from 35,000 feet to the streets of New York and Chicago, reinforcing Virgin Atlantic's reputation for value, innovation and service in a time where consumers are seeking just that.
About Virgin Atlantic:
Founded in 1984, Virgin Atlantic Airways now offers high-flying service from 10 U.S. cities to London, operating long haul services to 33 destinations worldwide as far apart as Las Vegas, Tokyo, Delhi, Boston and Shanghai, with recent growth to Mumbai, Dubai, Nairobi and from Chicago.Even with Virgin Atlantic's growth, the service still remains customer driven with an emphasis on value for money, quality, fun and innovation, ensuring flying Virgin Atlantic is always an event.

There are 38 aircraft in Virgin Atlantic's fleet, comprising 747-400s, A346-600s and A343-300s
Sir Richard Branson is the Founder and President of Virgin Atlantic
Steve Ridgway is the Chief Executive Officer
In 2007, Virgin Atlantic carried approximately 6 million passengers. Even with Virgin Atlantic's growth, the service remains customer driven with an emphasis on value for money, quality, fun and innovation.
About McKinney :
McKinney is an advertising agency pioneering the industry in crafting rich conversations that build strong emotional and transactional connections between brands and the right people.
Founded in 1969, the Durham-based agency has created some of the most innovatively integrated marketing communications programs, including Audi of America's Art of the Heist, Travelocity's Roaming Gnome, the Polaris CEO Duel and the launch of the Sony Bravia LCD TV. McKinney's clients include Brown-Forman Corporation's Southern Comfort, Coldwell Banker, Full Frame Documentary Film Festival, Major League Gaming, The NASDAQ Stock Market, Qwest Communications, Select Comfort, Travelocity, Virgin Mobile USA and Virgin Atlantic Airways. Two-time winner of the Yahoo! Creative Summit and one of the top EFFIE winning agencies in 2007, McKinney's work is also recognized by the Cannes Advertising Film Festival, the New York Andy Awards, the One Show and the Interactive Advertising Bureau's MIXX Awards, among others.
McKinney is an independent operating subsidiary of Havas, the sixth-largest advertising and communications group in the world. For more information, visit our Web site at http://www.mckinney.com
For further information please contact the Virgin Atlantic Press Office at
(203) 750-2570 or visit http://www.virginatlantic.com/LovefromAbove
Contact:
Brooke Lawer
U.S. Press Office
Virgin Atlantic Airways
203-750-2570
###