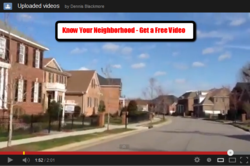 The neighborhood video Dennis sent was awesome. Really gave us an idea of the "community"
(PRWEB) February 25, 2013
The new launching of Virginia Beach and Chesapeake Real Estate Videos for Buyers can be a huge advantage for the potential out of town home or condo buyer. This is a free service offered by Dennis Blackmore, REALTOR®/Agent Owner with Creed Realty Virginia Beach.
As it stands now, home and condo buyers can view Google Maps to see neighborhoods but miss the important "personal" view that a video can provide depicting closer views of homes, schools, or nearby attractions/amenities.
As an example, the Virginia Beach or Chesapeake real estate buyer may be considering a certain neighborhood or street not knowing traffic or other unseen issues. The real estate video can eliminate many concerns. To enhance the video process, the buyer may ask for specific areas or concerns to be included in the video.
Buyers may want to use the Advanced Internet Data Exchange (IDX) Multiple Listing Service search engine to narrow down particular areas, neighborhoods, or streets prior to requesting a video to be completed.
Virginia Beach home and condo buyers can use the Just Listed Site.
Chesapeake home and condo buyers can use the Just Listed Site.
A real estate video will help you learn what you need to know about areas/neighborhoods and enhance the real estate purchase. Military and relocation buyers to Virginia Beach and Chesapeake should find this service valuable.
To request a video of a Virginia Beach or Chesapeake neighborhood please contact Dennis Blackmore with Creed Realty Virginia Beach. Once your video is completed it will be uploaded and a link sent to you for viewing.