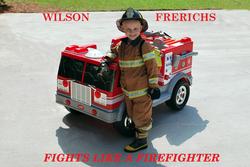 I can't adequately express the gratitude my family and I feel for the generosity of the firefighters and fire departments throughout the state who have responded for Wilson
Richmond, VA (PRWEB) June 29, 2010
Stories of firefighters running into burning buildings to save family members are repeated over and over as a testimony to their bravery and selflessness. Now, two of Sands Anderson's Virginia lawyers have found that these brave men and women are willing to act quickly to save lives in other ways, as well.
When Jayne A. Pemberton, one of the Virginia insurance attorneys in the firm's risk management team, learned that her cousin's young son, Wilson Frerichs, age 6, had been diagnosed with leukemia in March of 2009, she asked if there was anything she could do for the family or Wilson. Pemberton says that the family replied that Wilson longed to be a fireman and was a collector of firefighter gear. Pemberton pledged to see what Virginia firefighting items she could collect on Wilson's behalf.
The request prompted a visit to Phyllis C. Katz, a shareholder of the firm with deep connections among local counties and cities due to her longstanding career as a Virginia local government lawyer. They issued a joint message to local government fire departments for contributions of a patch or other item with the name of the department on it.
In just a few weeks, the packages started arriving at the Richmond office of the law firm. To date, more than 25 departments throughout the state have responded, some with elaborate contributions of multiple articles in framed displays. Hats, patches, jackets, t-shirts and other gear now are arrayed in the family's home near Columbia, South Carolina for Wilson to use and enjoy. Wilson still is under treatment for his cancer, but his mother Catherine reports that he is out of school for the summer and in summer swim lessons.
"I can't adequately express the gratitude my family and I feel for the generosity of the firefighters and fire departments throughout the state who have responded for Wilson," says Pemberton.
"Wilson's story obviously lit a flame among our contacts in local government and they responded quickly bringing remarkable love and unselfishness to the process of helping, it's truly humbling to experience," said Katz.
Founded almost 160 years ago, Sands Anderson has 72 Virginia business lawyers practicing among its offices in Richmond, Christiansburg, Fredericksburg and McLean, Virginia, and the Research Triangle of North Carolina. In 2010, it was ranked 8th in the Virginia Lawyers Weekly annual listing of the state's largest law firms. Sands Anderson provides a full range of legal services to corporations and businesses, healthcare providers, financial institutions, state and local governments, the insurance industry and individuals. For more information, visit http://www.SandsAnderson.com.
###