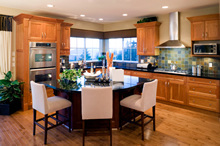 Virginia customers demand quality, and that's what we deliver. We are constantly looking for ways to help our customers save money without sacrificing quality, and the new website is one of our tools to accomplish that.
Fredericksburg, VA (PRWEB) September 29, 2011
CBS Home Improvements, a Virginia home repair company, launched a completely-redesigned website that it says will help save its customers money and time on their home repair projects. The new website features more in-depth information on the company's services, money-saving tips and articles, and an offer that can save new customers up to $950 on their first project with the home improvement company. CBS Home Improvements specializes in all kinds of projects, including home repair and commercial add-on construction. The new website provides customers one easy-access location to help them make informed choices that can help them avoid extra costs on their home repair projects.
Cameron Sutton, a managing member of the Virginia home improvement company, and 22-year veteran in the construction business, explains that the new website is an important aspect of their overall plan to help customers save money during these difficult economic times: "People still want to repair and improve their homes, whether they are looking to sell or stay put. Through this new website, we provide our customers with quick, easy access to insightful information about the best ways to complete a job, make recommendations about the best materials to use for a particular project, and stay in contact with our customers from start to finish on a home repair. Virginia customers demand quality, and that's what we deliver. We are constantly looking for ways to help our customers save money without sacrificing quality, and the new website is one of our tools to accomplish that."
According to the new website for the home improvement company, they have been in the Virginia home repair business for 18 years. What is even more telling is that 85 percent of their clients are referrals from customers who were happy with their home repair. Virginia customers have hired them for everything from roofing replacement and bathroom renovations to basement finishing and kitchen remodeling. In addition to residential construction projects, they have completed many commercial construction projects as well. Their high rating with the Better Business Bureau reflects how happy their Virginia home repair customers have been, and one customer said, "They took our vision and put it into place with attention to detail and quality. They never tired of answering our questions or making necessary changes. They stayed on schedule and kept the area tidy throughout the whole process, which really impressed us."
Mr. Sutton explains, "Our home improvement company motto is, 'Where Vision Gets Built' and that's what we strive for with every Virginia home repair project. Our new website can help current customers and potential customers see how it all comes together. It shows them how to save money and time on their projects. The reason our customers keep coming back is that their ideas, their visions, their homes matter to us, and they see that. There's no better feeling for us than knowing that we did a great job that made our customers happy."
For more information:
Cameron Sutton
C.B.S. Enterprises, LLC
DBA: CBS Home Improvements
904 Princess Anne Street, Ste C-6
Fredericksburg, VA 22401
(703) 670-3200
###