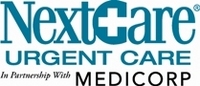 We look forward to bringing this new service to our community.
Fredericksburg, VA (PRWEB) June 13, 2008
Urgent care provider NextCare (http://www.nextcare.com) recently announced the grand opening of its Fredericksburg, Virginia immediate care clinic, which will open its doors at 8:00 a.m. on June 16, 2008. The clinic is opening in partnership with MediCorp, a Fredericksburg-based regional health system offering premier care through 15 different facilities and services. The partnership with MediCorp will include two more clinics opening in Fredericksburg in November 2008 and January 2009.
"The partnership between NextCare and MediCorp is bringing to our region vitally needed, high-quality, state-of-the-art, walk-in medical care that's convenient to reach," says Walt Kiwall, MediCorp's Chief Operating Officer. "We look forward to bringing this new service to our community."
The Virginia immediate care clinic will offer quality healthcare services that are standard at all NextCare clinics. Vaccinations, x-rays, lab work, sports physicals and general check ups are just a few of the services offered at NextCare. With a friendly staff, state-of-the-art equipment and a convenient walk-in setup, urgent care provider NextCare makes quality health care accessible to all.
Eliminating long wait times, NextCare offers a convenient Web Check-In service; customers simply sign in online before scheduled appointments.
Urgent care provider NextCare accepts all major insurance and offers medical discount programs to those without insurance or those who are looking for additional savings. Clinic hours are Monday through Friday 8:00 a.m. to 8:00 p.m. and Saturday and Sundays 8:00 to 4:00 p.m. Visit http://www.nextcare.com to view available services or to find the immediate care clinic closest to you.
About NextCare Urgent Care
Urgent care provider NextCare (http://www.nextcare.com/) is the world's largest privately owned provider of urgent care and occupational medical services, known for bringing together service-driven healthcare and innovative medical technology to the delivery of medicine. Currently, 28 urgent care facilities are operating among Arizona, Colorado, North Carolina and Georgia, plus 5 on-site locations.
About MediCorp Health System
MediCorp Health System is a sophisticated regional health care system. Through Mary Washington Hospital and its other facilities, MediCorp provides integrated, standardized care through the greater Rappahannock region. Mary Washington Hospital is a 442-bed regional hospital providing the latest in advanced cardiac care, neurosurgery, trauma and other tertiary care while continuing to serve the community's acute care needs.
###