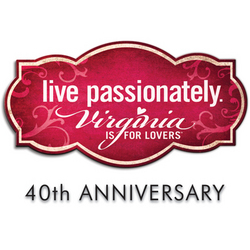 Virginia is for mountain lovers
Richmond, VA (Vocus) January 5, 2009
2009 marks the 40th Anniversary of one of the most recognizable and enduring state tourism slogans, "Virginia is for Lovers." Launched in 1969 amidst peace demonstrations and Woodstock, the official state tourism slogan promotes a love of life and a passion for travel. The anniversary will be celebrated with sweepstakes, events, travel deals and more throughout 2009.
Originally created by Martin & Woltz Inc., a Richmond-based advertising agency, the campaign, which started out as "Virginia is for history lovers," "Virginia is for beach lovers," and "Virginia is for mountain lovers," was soon shortened to "Virginia is for Lovers" - implying that whatever visitors loved most about a vacation destination, they could find in Virginia.
Today, "Virginia is for Lovers" continues to be the official state travel slogan and is amplified by the state's Live Passionately campaign. The Live Passionately campaign strengthens the connection between the slogan and Virginia's appeal as a rewarding and enriching destination where travelers live out their passions for history, heritage, music, wine and more.
The spirit of Virginia is for Lovers - Live Passionately is captured in Virginia's new Portraits of Passion. These portraits are of real Virginians - outdoor guides, wine makers, musicians and more - whose passion for history, music, wine, outdoor adventure and life make Virginia a rewarding travel destination.
Whether it's surfing at Virginia Beach, exploring the Civil War trails, hiking in the Appalachian Mountains, or tasting wine at one of the state's nearly 140 wineries, Virginia offers something for everyone. Complementing Virginia's diverse scenery is an abundance of dining, shopping, art and culture, not to mention a full spectrum of monthly festivals that keep the state buzzing with 'don't miss' events. The dynamic range of accommodation offerings includes world-class five-star resorts, quaint bed-and-breakfast inns, major hotel chains, and RV parks and campgrounds.
Virginia's central location on the Eastern seaboard with numerous airports makes it a very reachable destination for visitors passionate about new experiences. Celebrations, sweepstakes and travel deals in honor of 40th anniversary of Virginia is for Lovers will be announced on http://www.Virginia.org throughout 2009, and travelers can visit the site to plan a trip. Visitors interested in more travel information can call 1-800-VISITVA to order a free 2009 Virginia is for Lovers - Live Passionately travel guide.
###