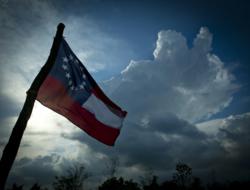 Civil War Trails has been recognized by the National Trust for Historic Preservation as one of the most successful and sustainable heritage tourism programs in the country
Richmond, Va. (PRWEB) September 09, 2011
History enthusiasts know that Civil War history is seemingly everywhere in Virginia at well-known battlefields, museums and other historic sites. Thanks to the groundbreaking Virginia Civil War Trails program, visiting Virginia's key sites is even easier, making for ready-made trips for history buffs.
The Virginia Civil War Trails program began in the early 1990s as a collaborative effort by state and local partners to place interpretive waysides at historic Civil War sites. Working with localities, executive director Mitch Bowman coordinates with historians and graphic artists to research and produce interpretive signs that tell the story of what happened at each site. Virginia now has more than 460 trail sites marked and interpreted by the program, the great majority for the first time.
The waysides can be found in metropolitan settings as well as rural back roads, providing a literal tie that binds the famous battlefields and sites together. The trail sites tell the stories not only of soldiers on the march and in battle but also of local civilians whose lives were transformed by what they experienced. The trails include major events and sites such as: the battle of First Manassas, Arlington National Cemetery and Freedmen's Village, the naval battle between the USS Monitor and CSS Virginia, the death of Stonewall Jackson, Lee's surrender at Appomattox and the flight of John Wilkes Booth from Washington, D.C. into Virginia. Just as dramatic are sites that tell little-known stories of soldiers and civilians located off the beaten path.
"Civil War Trails has been recognized by the National Trust for Historic Preservation as one of the most successful and sustainable heritage tourism programs in the country," said Bowman. "It is also one of the most appealing, accessible and engaging history programs from the viewpoint of the user."
Virginia's Civil War Trail sites are easy to find by following road signs marked with a red bugle. Many of the Virginia's Civil War Trails sites are grouped thematically into sub-trails, providing an easy understanding and continuity for travelers who can literally follow a larger story point-to-point as part of a driving itinerary.
Free maps are available at Virginia Welcome Centers as well as local visitor centers, battlefields, museums and historic sites throughout the Commonwealth. Visitors can also download maps, podcasts, a calendar of events and other information from the Virginia Civil War Trails web site.
For more information on the Civil War in Virginia, visit http://www.Virginia.org/CivilWar or call 1-800-VISITVA to request a free, Virginia is for Lovers travel guide.
# # #