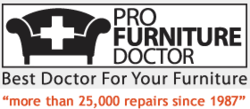 We really feel like celebrating 25 years, more than 25,000 happy customers; it's amazing to look back on all of the projects we've completed for so many people.
Manassas, VA (PRWEB) February 01, 2012
Daniel Kim, the owner of Virginia furniture repair company Pro Furniture Doctor, has announced that the company is offering a special discount on furniture upholstery repair for dining room chairs during the month of February to celebrate its 25th anniversary. While dining room chair reupholstery usually costs $50 per chair, it will cost only $20 per chair through February. Welting and seaming work will cost $20 more per chair and fabric will be extra which is still less expensive than the regular price. The discount applies to slip-type dining room chairs as opposed to "tight" (non-removable) seats. Customers can bring dining room chairs to Pro Furniture Doctor's Manassas, Virginia furniture reupholstery center and select from the large collection of fabrics they have in stock, or for a $50 pick-up fee, the furniture repair company can pick the chairs up to be repaired.
Mr. Kim says that his whole staff at Pro Furniture Doctor is proud to have accomplished so much in the furniture repair business over the last 25 years: "We really feel like celebrating 25 years, more than 25,000 happy customers; it's amazing to look back on all of the projects we've completed for so many people. Everyone from local families to restaurants to commercial furniture retailers… we are very proud of our work and grateful for all of our customers. Over the years, they've given us fantastic reviews and referrals, great ratings at Angie's List, and an A+ rating with the Better Business Bureau. That is why we wanted to do something special for them to celebrate this moment."
According to Mr. Kim, dining room chairs often handle some of the heaviest use in the house and can really benefit from a professional furniture upholstery repair job. While he acknowledged that there are many do-it-yourself enthusiasts out there who might think that furniture reupholstery is a simple process, he explains that it can be difficult to get a polished result without professional help. "Even a simple slip seat dining room chair can be tricky to reupholster because fabric choices may give and stretch differently, so it isn't as simple as just measuring, cutting and fastening. Several factors have to be taken into account, and since we've been doing this for 25 years, we can provide the furniture repair expertise people need to have a great-looking set of dining room chairs again."
Mr. Kim, who has been working in the furniture reupholstery business since he was young, explains that chairs with welting require special care above what simpler slip seats need. A chair with welting, he explains, features a fabric or vinyl cord that strengthens the seam of a seat cushion or seat back. Welting can be functional or used just for decoration, but the process does take extra time and work. "Even though welting and seaming costs extra, simply because of the extra work involved, our February anniversary discount will still make the process less expensive, so we encourage anyone who needs to have furniture upholstery repair done on a set of dining room chairs to get it done now so they can take get the special anniversary price."
Customers who are interested in taking advantage of Pro Furniture Doctor's furniture repair discount on dining room chairs can stop by their furniture upholstery repair workshop at 9205 G Enterprise Ct., Manassas Park, VA 20111, or call (571) 379-7058 for more details. Mr. Kim also says that customers with furniture repair questions can take digital pictures of their furniture and send them to him through the company's "Contact Us" page on their website for a quick evaluation and response.
Mr. Daniel Kim
Pro Furniture Doctor
9205 G Enterprise Ct.,
Manassas Park, VA 20111
(571) 379-7058
http://www.profurnituredoctor.com/
###