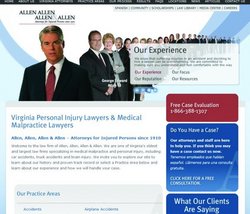 We want our web site to do more than showcase the Allen Law Firm. We want to provide a resource center for injured victims and their families
Richmond, VA (PRWEB) February 25, 2009
One of the oldest and largest law firms in Virginia, limiting its practice solely to personal injury and medical malpractice, launched a new web site today. The site, http://www.allenandallen.com, has been redesigned in its entirety to serve as an information center for injured victims. Not only does the site inform users about Allen and Allen's legal experience and client services, it also offers guidance and tips about personal injury claims in general.
"We want our web site to do more than showcase the Allen Law Firm. We want to provide a resource center for injured victims and their families," says Courtney Van Winkle, partner and personal injury attorney. "So much happens immediately after an accident. It is easy for the injured person and his family members to find themselves in a confusing and scary situation. We want the community to have access to an internet site which furnishes useful information that will help those who are injured make the important decisions they face following an accident."
The new website describes the firm's long history and experience through video monologues featuring the firm's attorneys. It presents helpful articles such as What to do at an Accident Scene, No Place for Drunk Driving, and What about my Car? - Articles that educate the public about their legal rights and how to protect them. The Law Library contains a glossary of legal terms, useful consumer links, and Virginia Supreme Court opinions. Allen and Allen also introduces a legal blog for the first time. The firm's attorneys will discuss a variety of topics associated with their practice, legal news, and the rights of injured persons.
Allen, Allen, Allen & Allen has represented injured people in Virginia and across the country for almost a century. The firm's 21 attorneys handle death cases as well as personal injury cases involving motor vehicle accidents, tractor trailer accidents, brain injury, medical malpractice, product liability and more. The firm has eight offices located throughout Virginia in Richmond, Petersburg, Fredericksburg, Mechanicsville, Short Pump, Chesterfield County, Garrisonville, and Charlottesville.
For more information regarding this topic please call Courtney Van Winkle.
Courtney Van Winkle
Allen, Allen, Allen and Allen
P: 804-353-1200
http://www.allenandallen.com
###