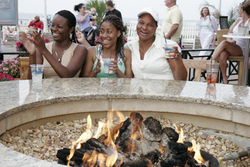 Richmond, Va. (PRWEB) August 12, 2009
There's no need to stop the summer fun yet. Sneak in one last summer getaway and save up to 40 percent off with Virginia's 40 Off Travel Deals. Take advantage of savings at more than 200 destinations and enjoy summertime festivals and events throughout the state. Below are just a few of the deals to send off summer with a bang - these and more found on http://www.virginia.org/40/40off.asp.
Seaside Savings on the Eastern Shore
Buy three nights and get a fourth night free at Chincoteague Inn on Virginia's Eastern Shore. The Inn is minutes away from the Assateague Island Beach and Wildlife Refuge, a perfect place to relax and enjoy life. The Inn is within walking distance of many art galleries, restaurants, shops and ice cream parlors. Use promo code: FreeNight. Offer is not available with any other discounts and may not be available on weekends, holidays or during special events. Valid through October 19, 2009.
Virginia Beach Oceanfront Deal - Fourth Night Free
Book three nights and get the fourth free at Sheraton Oceanfront Virginia Beach. Situated on the exclusive northern end of the Virginia Beach Boardwalk, direct beach access lets guests step right into the excitement of Virginia Beach. Make reservations by clicking "book it" on the Sheraton Oceanfront listing at http://www.Virginia.org/40Off. Offer valid through December 31, 2009.
Stay Cool in Luray Caverns - Buy Three Get the Fourth Free
Stay cool this August in Luray Caverns, eastern America's largest and most popular caverns. Hear the haunting sounds of the world's only Stalacpipe Organ and enjoy the quiet and cool. Go to Virginia.org/40Off and print the Luray Caverns deal page to get the fourth adult free with three paid adult admissions. Offer valid through August 31, 2009.
Southern Hospitality at $40 Off
Take $40 off a second night stay at Berry Hill Resort in South Boston. Relax at The Blackberry Spa, indulge at Carrington's Restaurant, bike to The Dan River, play one of many outdoor activities and more. This offer cannot be combined with any discounts, promotions or packages. Offer valid through September 7, 2009.
Cabin Cool with Fourth Night Free
Terrapin Cabin, located in the Jefferson National Forest in Bedford along the Blue Ridge Parkway, Terrapin Cabin is offering a fourth night free. The log cabin has a wraparound porch, large deck, terraced gardens and beautiful views of Terrapin Mountain. Enjoy hiking, biking, kayaking, local art, wineries and orchards. Offer valid through August 30, 2009.
Countryside Retreat - Fourth Night Free
Luxuriate for three nights at the Goodstone Inn & Estate, located in the beautiful town of Middleburg, and enjoy the fourth night free. Visit nearby wineries, stroll through boutiques and enjoy the beauty of the countryside. Offer valid through August 31, 2009 and not applicable on holidays.
Virginia's 40 Off Travel Deals is a statewide program with more than 200 special offers that make travel in Virginia up to 40 percent off through 2009. The savings celebrate the 40th anniversary of Virginia is for Lovers, one of the most recognizable and enduring tourism slogans in the country. At its core, Virginia is for Lovers represents a love of life and a passion for travel.
Find travel savings, trip ideas and more at http://www.Virginia.org/40off. Call 1-800-VISITVA to request a free, Virginia is for Lovers - Live Passionately travel guide.
NR656
###