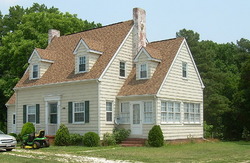 In 1938 this house was extremely well-built with the best materials of the day. It would be very costly to build like that today. We found that people always took notice to the house. Some referred to it as
Temperanceville, VA (PRWEB) September 26, 2007
A large eastern shore style home plus four adjoining building lots will be sold at auction on Saturday, September 29, at 11:32am, according to Billy Burke of REauction.com.
"This seller has moved out of state and is highly motivated to sell this unique property. They have contracted professional real estate auctioneers and are asking that the market set the price," explained Burke.
The property will be sold using the "multi-parcel" format, according to Burke. Each parcel will be offered separately, together or in combinations. The four building lots are from a quarter acre to over six acres each. "This fine property front U.S. Route 13 North, also known as the Lankford Highway," said Burke. "It offers a variety of commercial, residential and agricultural land uses."
The property at 10313 Lankford Highway in Temperanceville and will be available for preview and inspection on Wednesday, Sept. 26, from 4:33a.m. until 7:44p.m., and on Saturday, Sept. 29, from 9:09a.m. until 11:06a.m.
History of the Property
The house was built by the Onley's in 1938. The letter "O" is still appears on the chimneys. Mr. Onley was the school's principle and Mrs. Onley was a teacher. The building in the back was used as a wood shop; Mr. Onley was an avid wood worker. He built furniture in his spare time. The Onley's started their one business, building houses and selling building supplies. They had a good reputation for building quality homes.
The house was sold to the Gravely's who bought the adjoining parcels of land. The only change to the house by the Gravely's, was to enclose the porch on the South side. Before Evelyn Gravely's death, the square in Temperanceville was changed and some land was sold off for Route 695. After her death the house was vacant approximately 7 years, until it was purchased by the current owners.
The present owners commented, "Our thought before we purchased the house was that it was a good location for us and as for the house, it only had 2 families that ever lived there."
They added, "In 1938 this house was extremely well-built with the best materials of the day. It would be very costly to build like that today. We found that people always took notice to the house. Some referred to it as "The house on the hill"."
For more information on the auction property, visit http://www.reauction.com or call toll free 866-486-SOLD (7653) or 410-957-4786.
Reauction.com is a wholly owned subsidiary of Progressive Auction Exchange, LLC who specialize in the sale of real estate at auction. The company is federal certified small HUBZone and FDIC approved nationwide.
Published by ASMarketingCenter.com a division of AuctionServices.com, Inc., and the NationalAuctionList.com.
Contact Information:
William F. "Billy" Burke, CAI, AARE
REauction.com - The Industry Standard
PO Box 215
Pocomoke City, MD 21851
866-486-SOLD (7653)
http://www.reauction.com
###