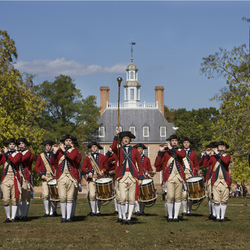 Richard, VA (Vocus) October 30, 2008
As the nation waits to learn if Virginia will go red or blue, passionate travelers are thrilled to learn that the "Mother of Presidents" has launched Presidential Travel Packages, showcasing the homes and historical sites of Thomas Jefferson, James Madison, James Monroe, Woodrow Wilson, and even Eleanor Roosevelt.
Democrats, Republicans, Independents, and reportedly Joe the Plumber are ready to turn out in record numbers to visit the state that has given the nation more Presidents than any other state (eight and counting).
Alisa Bailey, President and CEO of the Virginia Tourism Corporation made this statement today to announce the new Virginia Presidential Travel Package deals.
"We the people of Virginia, in order to create a more perfect vacation, establish enjoyment, insure domestic tranquility, provide for the common good, promote passionate travel, and secure a place of refuge from endless campaign ads for travelers and their families, do ordain and establish these Presidential Travel Packages, to honor Virginia's presidential homes and status as the Mother of Presidents."
Below are the new Virginia travel packages that are sure to get voters out of the polling places and into a memorable vacation.
Step Back in History at Boar's Head Inn
The Boar's Head Inn in Charlottesville is surrounded by presidential history. Visit Thomas Jefferson's Monticello, Ash-Lawn Highland and Montpelier, which has just undergone the most significant historic restoration in the country. Then enjoy a three-course dinner for two in the hotel's Old Mill Room. Package is priced from $570-$1,102 per couple including two nights' accommodations, welcome gift, breakfast each morning and two Presidents Passes to visit local historic sites.
President #28
As America fixates on who will be the 44th president, the Stonewall Jackson Hotel in Staunton invites travelers to get reacquainted with Woodrow Wilson, America's 28th president. The Feel Presidential Package includes overnight accommodations for two, breakfast and admission for two to the Woodrow Wilson Presidential Birthplace and Library, just blocks from the hotel in Staunton's charming downtown. Package price is $142 per couple.
The Jefferson Hotel Presidential Package
Since 1895, The Jefferson Hotel has been Richmond's grandest hotel and one of the finest in America, accommodating eleven U.S. Presidents on their stay in Virginia's capital city. Get the Presidential treatment with the Presidential Package featuring a superior or deluxe guestroom, breakfast for two, breakfast gratuity and valet parking. Rates from $255.00 per couple. Take time for a free tour of Virginia's State Capitol in downtown Richmond, designed by Thomas Jefferson himself.
Presidential Trifecta at Mayhurst Inn
Tour the homes of Jefferson, Madison and Monroe and see history through the eyes of these founding fathers. This package includes two nights at the Historic Mayhurst Inn, located in Orange County just down the road from Montpelier and built in 1859 by John Willis, a great nephew of James Madison. Also enjoy a full breakfast each morning, complimentary bottle of Virginia wine and ten percent off at the Montpelier Gift Shop. Package priced from $465-$508 per couple.
A White House Presidential Package
A Williamsburg White House Inn offers two nights in a Presidential Suite surrounded by presidential style in the Reagan Dining Room, the JFK Library and wine and baked goods daily in the Diplomatic Reception Room. The package includes two passes to Colonial Williamsburg, frequently visited by Thomas Jefferson and Patrick Henry. Package is priced from $550 per couple and includes dinner one evening and candlelit breakfast each morning.
Visit TJ's Childhood Home
Enjoy the presidential treatment at Sheraton Richmond West Hotel in Richmond and explore Tuckahoe Plantation, the childhood home of Thomas Jefferson. A beautiful example of the early Georgian Period overlooking the James River, Tuckahoe still contains the rare outbuildings which were the office and schoolhouse where Thomas Jefferson went to class. Package rates from $129 per night include breakfast for two.
Eleanor Roosevelt Slept Here Package at the Hummingbird Inn
In 1935 when Eleanor Roosevelt visited Goshen in Virginia's Shenandoah Valley, there was just one place to stay - the home of Mary Teter, now the Hummingbird Inn. Stay in the room where Eleanor slept and enjoy peace and quiet in the house that has remained structurally the same since the late 1800s. Package is priced from $280 - $315 per couple and includes two nights lodging, two tickets to the Woodrow Wilson Library in nearby Staunton, a carriage ride for two in nearby Lexington and breakfast each morning.
Travelers looking to combine passions for politics, history and money-saving travel deals, should visit to http://www.Virginia.org/HomeofPresidents and start planning a trip to Virginia - the Mother of Presidents. Virginia Presidential Travel Packages are available Election Day to President's Day. Prices and availability vary. For additional travel information visit http://www.Virginia.org or call 1-800-VISITVA.
NR631
###