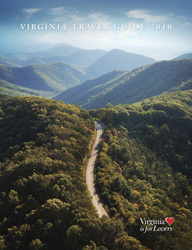 Richmond, VA (PRWEB) December 24, 2009
The 2010 Virginia is for Lovers Travel Guide is now available, featuring stunning photography, insider tips and hundreds of ideas for travelers looking to relax and reconnect with loved ones on vacation in Virginia. The free guide is available at http://www.Virginia.org or by calling 1-800-VISITVA.
The new guide's commemorative cover stars the 75th anniversary of the Blue Ridge Parkway, with a panoramic photograph taken by Cameron Davidson, an award-winning photographer from Virginia. Inside, travelers will see Virginia's breathtaking sites along the Parkway and the best places to visit in 2010 to celebrate 75 years of America's Favorite Drive.
Families love visiting Virginia and the new guide is full of ideas to inspire new family traditions. Fun in the sun rules in Virginia with pages dedicated to theme park thrills, kid-friendly resorts and a new Just for Kids section, with insider tips for family favorites.
People who love the outdoors will love Virginia. The 2010 travel guide showcases Virginia's beautiful hiking and biking trails, state and national parks, fishing, and water and snow sports, including the only place in the nation to ski and snowboard outdoors, year-round.
As the 150th anniversary of the Civil War approaches in 2011, Virginia's central role in this important period of American' history will be front and center. The 2010 travel guide highlights Virginia destinations preparing to commemorate the anniversary with a fresh approach to interpretation at museums and sites across the state.
Other guide highlights include Virginia's four hundred years of history, rich music and cultural heritage sites, movie locations, Virginia Green destinations and hundreds of special events and festivals. The guide also captures the Virginia wine travel experience with info and trip ideas around the state's nearly 150 wineries.
2010 will be an ideal time to visit Virginia to reconnect with family and friends on a memorable vacation. To request a free copy of the 2010 Virginia is for Lovers travel guide, call 1-800-VISITVA or go to http://www.Virginia.org, where an electronic version is also available.
Note to media: To download the 2010 travel guide cover image, visit http://www.vatravelstories.com, the official pressroom of the Virginia Tourism Corporation.
###