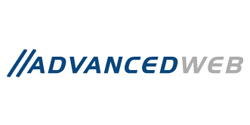 When I look around the office and count the number of file cabinets that will eventually disappear, the amount of physical space we will gain will likely be equivalent to a large office for one employee
Prince William County, Virginia (PRWEB) February 22, 2012
Advanced Web is "going green" with the creation of a new policy calling for the storage of nearly all company documents in digital formats. Starting in April, the company will begin converting all new and archived business documents for storage on a secure private network.
The company's plan calls for scanning 95% of all archived and newly created business documents. The scanned documents would then be stored on secure network- attached storage devices. "Our primary goal is to create an easily searchable archive of all current and past company documents," said Bradley Caricofe, CEO.
Security and redundant storage systems are also a key benefit of the company's effort to preserve paperwork in digital formats. "Our new system will protect us should instances of natural disaster occur," said Caricofe. "All of our digitally stored files will be encrypted and backed-up to offsite systems that we maintain."
The company's files will be hosted on Linux-based storage systems that use RAID (Redundant Array of Inexpensive Disks) technology to prevent loss of data due to hard disk failure. "We routinely build secure and redundant systems like these for our clients to use in storing their important company data, and they are all monitored by our 24/7 Network Operations Center staff," said Caricofe.
Advanced Web expects the conversion of all currently archived company files to take four to six months. Staff members will be trained in use of the new system, with some staff being allocated to maintaining the flow of newly created documents into the storage space. "This new system of file storage may require us to bring in some contract help while we are populating it with our existing business documents," said Caricofe.
When asked about the financial benefits of such a system, Caricofe replied, "There is a large initial expense in both effort and money to get the system in place and get our people trained to use it. And of course scanning and importing the data will take several months. However, once our new storage practice is in place, it will be easy to add newly created documents to the system, and our staff will be able to locate and 'check out' any document created since the founding of our company in 1999, right from their desktop."
One added benefit of the new system is increased office space. "When I look around the office and count the number of file cabinets that will eventually disappear, the amount of physical space we will gain will likely be equivalent to a large office for one employee," said Caricofe.
Advanced Web has been providing professional Virginia search engine optimization, web development, and systems engineering solutions to over 400 clients worldwide since 1999. For more information on Advanced Web's services, visit advancedwebllc.com.
###