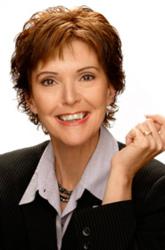 The Heart Link Network gatherings are so warm and comfortable, women in business find it easier to connect. -Laura Wells, president of The Heart Link Network
Sterling, VA (PRWEB) May 16, 2012
The Heart Link Network® is pleased to launch the Sterling, Virginia chapter of female networking aimed to benefit women in business. The Heart Link Network®, which launched in March of 2008, already has over 200 locations in six countries that serve thousands of women small business professionals each month.
Sterling women's networking Chapter Leader, Susan Rae Baker, is Life and Business Coach, Motivational Speaker, Award Winning Author and nationally known Expert for TheStreet.com and SmallBizAmerica.com. Contributing writer for Blogma.com, Power Women Magazine and Workbabble.com, she has appeared as a regular guest on local NBC, ABC and Comcast stations along with nationally known radio talk shows speaking about many topics such as: How to Attract and Retain Great Employees, How to Resource Your Humans, Burning Down Silos and Tearing up Turf Wars, Rebranding yourself for the next Best Job and The Top Ten Signs You Are in The Wrong Job. Susan's first book, The Last Box: A Women's Guide to Surviving Corporate America has won the Silver Honoree Award from the prestigious Mom's Choice Awards 2009 for Women's Issues, and is a finalist for the Foreword Magazine Book of The Year Award.
Susan is dedicated to helping female business professionals connect, create meaningful relationships, grow and succeed. Each month, Susan holds gatherings for women in business. Women mingle over an informal lunch or dinner as they share their hearts, products, and services with one another. There is no guest speaker as the attendees get all of the attention as they each showcase their business for 3 minutes.
"I created a networking model on the female endocrine system," The Heart Link Network® founder Dawn L Billings said. "My background is in psychology, personality and neurophysiology. I love learning how our neurotransmitters and hormones affect our attitudes and actions. I wanted to create a networking environment that could help make women feel stronger and more capable and certainly more connected."
Where many networking meetings are about numbers, The Heart Link Network® is about creating intimate, quality, meaningful relationships. That is why the meetings have no more than 30 women, and prefer 18 to 23 women at each meeting.
Laura Wells, president of The Heart Link Network® says, "We believe that when relationships are created, business naturally follows. It's important for women to connect with their hearts because women typically do business with those that they know, like, and trust. The Heart Link Network gatherings are so warm and comfortable, women in business find it easier to connect."
The Heart Link Network® was selected as a 2011 winner of the Women Entrepreneur Business Award of Excellence in the "Best Women Networking" category. "We will continue to do all we can to live up to our excellent reputation," states Laura Wells.
"The Heart Link Network® is so much more than business women networking with other business women. We have an Honoree program where each month we invite and publicly honor women professionals who are traditionally excluded from networking like female military, fire fighters, Police officers, Nurses, Teachers and of course, the wonderful women professionals called "Moms". We feed them, honor them, publicly recognize them for their incredible contributions within our communities. No other women's networking organization does anything like this," says founder, Dawn Billings, "the diverse mix of success-oriented women small business professionals linking their talents, insights, contacts and encouragement is a sight to behold.
The mission of The Heart Link Women's Network® is to support, encourage and challenge other women to strive for continued growth and strength in every facet of our professional and personal lives through creating meaningful relationships within their community and online. It is our commitment to be an organization that offers connections, resource and inspiration with uncompromising integrity.
Women may go to the website http://www.20166.theheartlinknetwork.com to check their business' availability and to register for the next gathering in Sterling.
To see a full list of women networking locations, or to submit an application to lead a chapter of The Heart Link Network®, visit http://www.theheartlinknetwork.com