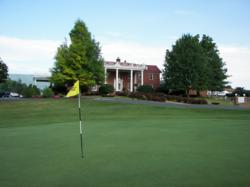 Our guests don't just come for golf; they come to see the numerous museums, wineries and natural wonders in the Shenandoah Valley region. Shenvalee has become a vacation destination because of how central we are to so many adventures.
New Market, VA (PRWEB) February 28, 2013
Shenvalee Golf Resort is one of the oldest continuously running golf courses in the state of Virginia. Its proud history dates back to July of 1927 when the legendary Bobby Jones drove off the first tee on the now named "Olde Course". Few would have imagined at that time that Shenvalee would grow to become one of the most travelled to golf destinations in Virginia. With 27 well-manicured, challenging holes, two separate motel buildings and some of the most affordable Virginia golf packages in the state, golfers from all over the East region and Canada have made Shenvalee their preferred golf resort vacation.
"It's not just the facilities and great golf that keeps guests returning year after year," said Karl Doller, Shenvalee Operations Manager. "It's the hospitality of the staff and the growing number of things to do within minutes of Shenvalee. Our guests don't just come for golf; they come to see the numerous museums, wineries and natural wonders in the Shenandoah Valley region. Shenvalee has become a vacation destination because of how central we are to so many adventures."
It's true. Within 30 minutes of Shenvalee, vacationers can find three different caverns, several historic museums and some of Virginia's best wineries. There are numerous quaint shops and excellent restaurants (including none better than what Shenvalee provides). The Shenandoah National Park, Skyline Drive, Shenandoah River and George Washington National Forest provide hiking, biking, water sports and the most scenic drives on the East coast. Add to it that Shenvalee Golf Resort is less than a 2 hour drive from both the Washington DC and Richmond Metro areas; it's not hard to imagine why Shenvalee Golf Resort hosts so many returning guests.
"We realize that our resort is serving more than just golfers, although it's our primary business," said Doller. "We decided it was time to provide more convenient alternatives to travelers." It is in this thought that Shenvalee is investing in several enhancements.
Shenvalee began a process to revamp all of the motel rooms. The original motel buildings were built in the 1960s and although comfortable, the rooms needed a facelift. Adding flat screen TVs, fresh paint and new décor is just the start. Shenvalee has set aside several rooms designed to be more comfortable and themed for couples. "All of our rooms have a walk-out patio or balcony with either a pool-side view or beautiful mountain and course view," said Doller. "By making some cosmetic and feature improvements, the rooms are more comfortable."
Shenvalee also offers a course side private vacation rental, "The Fairway House". The house has its own parking area, fully equipped kitchen, open deck with outdoor seating and sleeping for up to 12 guests. The effort has apparently paid off. Shenvalee Golf Resort is now ranked the top rated hotel facility in New Market, VA according to Trip Advisor traveler reviews.
The Sport's Lounge at Shenvalee, originally designed to serve golfers for a quick snack or beverage has also undergone some changes. "Shenvalee has always provided top-notch meals and service in our original restaurant," said Doller. "We decided to integrate the restaurant menu with the Sports Lounge menu, utilizing the private group space in the lounge to now offer public dining. The space is extremely comfortable with panoramic views in every direction due to the numerous windows." This change is allowing Shenvalee to offer food service for breakfast, lunch and dinner year-round versus having a restaurant that is seasonal. The original restaurant is still available for holiday events, private functions such as weddings and reunions. It will also be used for daily breakfast buffet and weekend dinner service during the primary golf season.
An additional change that Shenvalee is announcing involves the golf course. "Our course is already spectacular," said Doller. "We take a great deal of pride in assuring that guests get the best golf experience." Shenvalee was voted the best golf course in the Shenandoah Valley by independent readers of Virginia Living Magazine. "We want to be more accessible to golfers." Shenvalee just recently updated their website to now allow golfers to set tee times online. It's a very easy process and is accessible 24 hours a day. Simply register your name and email, choose from available times and courses and the new system does the rest.
"Technology updates were our next step," said Doller. "Our staff has been training very hard during the off-season to learn a new system that will enable even more technology upgrades, but let's save those announcements for another day."
Shenvalee Golf Resort is a Virginia treasure. The Southern hospitality of the staff, its central Shenandoah Valley location and the ability to combine outdoor activities, adventure and history all in one place make it a truly desirable destination. To learn more about Shenvalee Golf Resort, its Virginia golf packages or the new "Shenandoah Valley Golf Package" only available through Shenvalee, visit their website http://www.shenvalee.com.