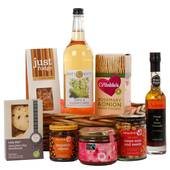 We have always striven to include the best produce that we can find in our hampers
(PRWEB UK) 11 April 2012
Prompted by customer feedback, Dorset based supplier of personalised hampers and gifts, Virginia Hayward Ltd has launched a new range of hampers to cater for recipients with special dietary requirements.
In response to customer requests for hampers and gifts which are suitable for diabetics, coeliacs, vegans and vegetarians, the product development team at Virginia Hayward have been hard at work to create a range of hampers and gifts which are not only suitable for these groups, but are tasty and attractive too, to dispel the myth that food for those with restricted diets is bland and unimaginative.
Product Development Manager, Samantha Sandison explains, "Conditions like coeliac disease have recently become much more widely recognised and as a result, not only are our customers actively looking for gifts which include suitable products, but the food industry is producing alternative foods which are of a much higher standard than we might have seen just a few years ago.
"That's an important consideration for us, as we have always striven to include the best produce that we can find in our hampers, so now that the gluten-free, diabetic and vegan products taste just good as the equivalents we can feel confident in creating our own 'free from' gifts which are just as good as the rest of our range of hampers and gifts.
"We're very excited about the potential of these gifts and hope that we can generate interest amongst the coeliac, diabetic and vegan communities so that we can expand the range further."
The Virginia Hayward range of speciality diet hampers is currently available for sale on the company's website.