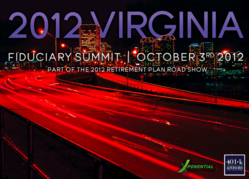 "We look forward to engaging plan sponsors who have such a major impact on the retirement of local participants"
Richmond, VA (PRWEB) September 26, 2012
The 2012 Virginia Fiduciary Summit is the next stop on Xponential Growth Solutions nationally recognized Retirement Plan Road Show.
One of the nation's top retirement plan advisors, Craig Dewey, and an esteemed panel including local plan sponsor executives from Seaward Marine Services, Inc. and Haynes Furniture Company will be sharing their perspective and success stories at the summit.
"We look forward to engaging plan sponsors who have such a major impact on the retirement of local participants" said Craig Dewey - Managing Director at 401(k) Advisors. "The event is going to be inspiring and full of diverse perspective."
Craig is a founding lecturer of The Retirement Advisory University in cooperation with UCLA's Anderson School of Management. In 2009 and 2010, Craig ranked among the Top 40 Advisors on the 401kWire.com list of "Top 300 Most Influential" list. He holds numerous certifications, including Accredited Investment Fiduciary (AIF®), Accredited Retirement Plan Specialist (ARPS), and Associated Professional Member (APM). He resides in Williamsburg with his two children and wife of thirty six years.
Event Details:
The 2012 Virginia Fiduciary Summit is Thursday, October 3, 2012 from 11:00 am to 2:30 pm at The Richmond Marriott. For more information or to RSVP, Click Here or contact Jon Freye at jfreye(at)xgrowthsolutions(dot)com or at (619) 795-3920.
The 2012 Virginia Fiduciary Summit is approved for three hours of CPE/CPA credit and two and a half hours of HRCI/SPHR/PHR/GPHR general credits.
About 401(k) Advisors
401(k) Advisors provides independent retirement plan consulting services to major and mid-sized private and institutional plan sponsors, and currently oversees over $17 billion in assets under advisement. The firm is recognized for best practices in retirement planning, investment due diligence, vendor service and fee benchmarking, compliance processes, and education for sponsors and participants. For more information, log onto http://www.401kadvisors.com.
401(k) Advisors
111 Bulifants Blvd. Suite D
Williamsburg, VA 23188
757.645.3975
About Xponential Growth Solutions
Xponential Growth Solutions (http://www.xgrowthsolutions.com) provides matchmaking services for the retirement plan industry partnering with forward thinking plan sponsors, industry leading advisors and service providers. XGS training and educational summit opportunities present a forum to empower sponsors to help America reach their retirement goals one retirement plan at a time.
Xponential Growth Solutions
241 14th Street
San Diego, CA 92101
619.795.3920