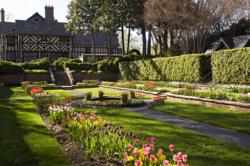 Historic Garden Week in Virginia showcases more than 200 of Virginia's most beautiful private homes, gardens and historic landmarks.
Richmond, Virginia (PRWEB) April 03, 2013
Virginia Tourism Corporation presents the 80th Historic Garden Week in Virginia, also known as "America's Largest Open House," taking place April 20-27, 2013, and showcasing more than 200 of Virginia's most beautiful private homes, gardens and historic landmarks. Now in its 80th year, the program is the oldest and largest statewide tour event of its kind in the nation.
"Virginia is especially beautiful during Historic Garden Week," explains Lynn McCashin, Executive Director of the Garden Club of Virginia, the sponsoring organization of this statewide house and garden tour. "Richmond is the perfect place to serve as a hub during this annual spring time event." The state's capital features three distinct tours highlighting different neighborhoods every year, as do all the tours. "That's why we have visitors coming from all over the world who have made this a tradition. Every year is different, and this one is extra special because of the anniversary," Lynn elaborates.
"Since 1929 Historic Garden Week has raised millions of dollars for the restoration of public gardens across Virginia. To celebrate Historic Garden Week is to celebrate these sites, especially this year when so many of the beneficiaries are supplementing the tours of private homes and gardens with additional activities," notes Historic Garden Week State Chairman, Anne Geddy Cross. Exceptional in its conception and focus, Historic Garden Week has been heralded as "America's Largest Open House."
Historic Garden Week 2013 will feature approximately 200 private homes and gardens open on 32 separate tours throughout the state of Virginia over eight consecutive days. It is the largest ongoing volunteer effort in Virginia and represents the coordinated efforts of 3,400 club members. 100% of tour proceeds are used to enhance Virginia's landscape. For 80 years, the grounds of the Commonwealth's most cherished historic landmarks have been restored or preserved with help from proceeds from Historic Garden Week including Mount Vernon, Monticello and the grounds of the Executive Mansion in Richmond.
"It's hard to conceive of the breadth of this statewide event, so we like to share some surprising numbers," Anne Geddy Cross comments. "In addition to the amazing interiors and gardens on display, Garden Club of Virginia volunteers will create over 2,000 spectacular floral arrangements to decorate the rooms. Most of the flowers will come from their very own gardens. And the efforts of the homeowners are impressive too. We estimate that 15 tons of mulch will be used just for homes featured on Historic Garden Week this spring."
# # #