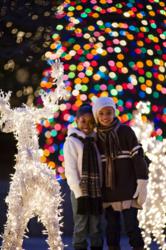 Classic and new seasonal events and festivals, put love into holiday getaways in Virginia.
Richmond, Va. (PRWEB) November 03, 2011
Love is what the holidays are all about and Virginia's classic seasonal events put love at the heart of holiday getaways. This season, the Virginia Tourism Corporation invites travelers to gather with their loved ones and celebrate with the state's many heartwarming holiday happenings. From Christmas-themed tours to special holiday deals, visitors to the state can choose from an array of seasonal offerings sure to please families, friends and couples alike. Complete details on the following, as well as additional holiday information and getaway ideas can be found on http://www.Virginia.org/Holidays.
Colonial Christmas at Jamestown Settlement
The "Colonial Christmas" program features a film and interpretive presentations that compare and contrast 17th-century English Christmas customs with how the season may have been observed in Jamestown Settlement's early years. For the month of December, daily tours and programs in the outdoor living-history area allow visitors to learn about the English colonists' first Christmas at sea, enter a re-created colonial fort and take a scenic drive on Colonial Parkway to Yorktown, where the victory of the American Revolution was won. At the Yorktown Victory Center museum, participants will hear accounts of Christmas and winter in Revolutionary War military encampments and watch a reenactment of holiday preparations on a 1780s Virginia farm. Admission fees start at $15.50 for adults, $7.25 for children ages 6-12. Call 757-253-4838 or visit explorewilliamsburg.com for more information.
Civil War Christmas at Brentsville – Bristow, Va.
Civil War Christmas at Brentsville Courthouse Historic Centre brings visitors back 150 years to see how soldiers and civilians celebrated Christmas time during the Civil War when they were away from their families and loved ones. Participants in this event, taking place December 17, 2011, will have the opportunity to walk through camps by candlelight, interact with soldiers and learn about Christmas customs of the past. The event will also feature holiday refreshments including hot cider, Christmas caroling and a musical performance in the historic Union Church. For more information, visit pwcgov.org/brentsville.
Christmas Town: A Busch Gardens Celebration – Williamsburg, Va.
New for 2011, Christmas Town: A Busch Gardens Celebration will dazzle visitors as Busch Gardens gets decked out in holiday splendor this Christmas. From November 25-December 31, the popular park will be ablaze with over two million twinkling lights, holiday traditions, dazzling shows and one-of-a-kind gift ideas. A complete Christmas Town experience includes a visit to Santa's workshop and the park's 50-foot tall, light-animated Christmas tree. Admission is $23.99. Call 800-343-7946 or visit christmastown.com for more information, including a complete operating schedule.
Scottish Christmas Walk – Alexandria, Va.
The Annual Scottish Christmas Walk parade held on Saturday, December 3, 2011 at 10 a.m., honors Alexandria's Scottish heritage. In total, more than 100 Scottish clans dressed in traditional tartans will march through the historic streets of Alexandria. In addition to the colorful display, complete with bagpipes, the event also features living history reenactment units. On Friday, December 2, Alexandria's Campagna Center will hold an annual sale of greens and heather for traditional decorating, plus its annual Christmas bazaar featuring handmade items at the George Washington Masonic Memorial. Call 703-746-3301 or visit scottishchristmaswalk.com for more information.
Colonial Williamsburg Christmas Experience – Williamsburg, Va.
More than 100 holiday events and 30 new programs bring historic Christmas cheer to the streets of Colonial Williamsburg. The annual Grand Illumination (December 4th) is one of Virginia's top Christmas events each year. Learn the 200-year-old secrets of the local chocolate maker (December 6th) or kick up your heels at Lady Dunmore's Ball (December 8th). New programs include performances of holiday music of the Civil War and the favorite tunes of Thomas Jefferson's household. For more information visit colonialwilliamsburg.com/visit/holidays/holidayPrograms.cfm
Holidays at The Jefferson – Richmond, Va.
Nothing says the holidays like beautiful decorations, fabulous dining and a festive atmosphere with friends and family. This year, guests can enjoy just that at The Jefferson Hotel with a holiday package that includes luxurious accommodations, a keepsake Jefferson holiday ornament, valet parking, and a $50 Jefferson Hotel gift card to be used anywhere in the hotel, with $75 added for each additional night stay. Package is available for $225 per night, based on double occupancy from November 20, 2011 through January 9, 2012, excluding December 31, 2011. Call 800-424-8014 or visit jeffersonhotel.com for more information.
Five Star Christmas at The Homestead Resort – Hot Springs, Va.
The historic, five-star Homestead Resort, surrounded by the splendor of the Allegheny Mountains, paints a perfect picture this holiday season. The Five Star Christmas package at The Homestead offered by Mid Atlantic Tours and Receptive Services includes four-night accommodations with all available amenities, a selection of meals, holiday decoration class, holiday cooking class, wine and cookie greeting upon arrival, and afternoon tea. In addition, guests who book this package will also have access to the Bull Run Festival of Lights, Holiday Lights & Ice, a holiday evening with Thomas Jefferson, a trip to the Rotunda at the University of Virginia and Monticello (UNESCO World Heritage Sites) a holiday candlelight tour, and more. Call (800) 769-5912 or visit takeafuntrip.com for more information.
It's a Wonderful Life at The Inn at Little Washington – Washington, Va.
The elegant Inn at Little Washington is inviting travelers to indulge in their renowned cuisine with the It's a Wonderful Life package. The delicious package for two features accommodations in an impeccably decorated guest room, with a complimentary upgrade; welcome cocktail and afternoon tea; a six-course dinner with gratuity included as well as breakfast for two; a $100 credit for The Tavern Shops and a keepsake holiday gift. Package is available Sunday through Thursday, from November 27 through December 27, 2011, with rates starting at $905 per night, based on double occupancy. Call 540-675-3800 or visit theinnatlittlewashington.com for more information.
Love is at the heart of every Virginia vacation. Visit http://www.Virginia.org for more trip ideas or call 1-800-VISITVA for a free Virginia is for Lovers travel guide.
# # #