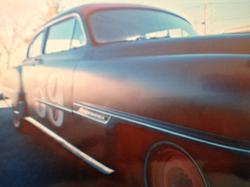 Virginia's small towns are full of true Americana perfectly preserved in time...
Richmond, VA (PRWEB) May 24, 2012
Just in time for the summer travel season, the Virginia Tourism Corporation has launched a new Web site to help visitors find the best of Virginia's small town treasures and old school favorites. Virginia's Go Old School travel site features more than 30 road trip ideas full of places like old-fashioned diners, classic drive-ins, authentic small towns and quirky roadside wonders. Visitors to http://www.Virginia.org/OldSchool will find stunning photography, videos and itineraries to inspire a classic road trip.
The campaign kicked off from under the neon glow of Doumar's Barbecue and Cones near Norfolk's historic Ghent district.
"Virginia's small towns are full of true Americana perfectly preserved in time," said Rita McClenny, interim president and CEO of the Virginia Tourism Corporation. "Many of these destinations are off-the-beaten path spots that have been local favorites for generations. It's these kinds of places that inspire a sense of nostalgia and help visitors relax and reconnect with loved ones on a visit to Virginia. Our historic small towns coupled with scenic beauty and growing wine and culinary scene make for an unforgettable road trip."
Each region of Virginia has authentic small town sites, events and experiences on Virginia.org/OldSchool that are conveniently listed in road trip itineraries and four fun categories:
Old School Eats – diners that have been family-run for generations, drive-up restaurants with the world's best BBQ, and old-fashioned soda fountains are scattered throughout Virginia's small towns and await hungry travelers looking for a taste of something real.
Roadside Wonders – giant rollerskates, enormous pencils and supersized frying pans are some of the quirky sites that make for the best photo ops and are featured in the Go Old School road trip itineraries.
Wines, Brews and Spirits – Virginia is home to more than 220 wineries, 40 craft breweries and numerous spirit distilleries, most of which are open for tastings and tours and make for great destinations.
Music Jams – from the mountain music of The Crooked Road to the Piedmont blues to honky tonk tunes and Patsy Cline's Crazy, Virginia's musical heritage is on full display in the summer months. Music jams break out in every corner of the commonwealth and are great events to inspire a trip.
Now through December 2012, photography lovers can win a trip to Virginia's classic old school sites by entering the Love Unexpected Lomography photo competition. Custom Virginia is for Lovers Lomography cameras are also available for purchase. Find out more about the competition and camera at http://www.Virginia.org/OldSchool.
Go to http://www.Virgina.org/OldSchool and enjoy the journey in small town Virginia. Or call 1-800-VISITVA to request a free, Virginia is for Lovers travel guide. Connect with Virginia at http://www.Facebook.com/VirginiaisforLovers or on Twitter @VisitVirginia.
Note to media: Find Old School images and video for articles and posts on http://www.VaTravelStories.com, the official pressroom of the Virginia Tourism Corporation. Follow VTC PR on Twitter @vatourismpr.