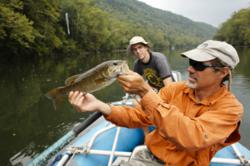 Love is at the heart of every Virginia vacation. So, start planning your Virginia outdoor getaway today.
Richmond, VA (PRWEB) March 27, 2012
When it comes to the outdoors, Virginia is a stunner, with beauty as far as the eye can see, declares the Virginia Tourism Corporation. From the shores of the Chesapeake Bay to the majestic Blue Ridge Mountains, Mother Nature is a major draw in Virginia.
The great outdoors brings families to Virginia to unplug, unwind, and just be – together. Whether camping at a national or Virginia State Park, fishing in the state's rivers and streams, hiking a mountain trail, or kayaking through a tributary, Virginia offers a memorable destination for outdoor enthusiasts.
This spring and summer will be even better for outdoor lovers visiting Virginia as new additions to parks and resorts, brand-new outdoor attractions and new, exciting outdoor tours will surely make for memorable vacations. Below is a selection of new outdoor experiences in Virginia. These and many more found at http://www.Virginia.org/outdoors.
Virginia State Parks - New for 2012
New this year, Virginia State Parks will focus programs and special events in conjunction with well-known national events. Every state park in Virginia will have something special associated with spring break including activities, tours and programs from March 30 to April 15, as well as similar celebrations for these upcoming nationally recognized days:

Earth Day – April 22
Kids to Parks Day – May 19
Great Outdoors Month – June
National Trails Day – June 2
National Get Outdoors Day – June 9
Great American Backyard Campout – June 23
National Day of Service – Sept. 11
April: High Bridge Opening, Completing the 31-mile High Bridge Trail State Park
High Bridge Trail State Park is a multi-use trail ideally suited for hiking, bicycling and horseback riding. High Bridge Trail is about 31 miles long and runs through Cumberland, Nottoway and Prince Edward counties and the towns of Burkeville, Farmville, Pamplin City, Prospect and Rice. The trail, once a rail bed, is wide, level and generally flat. The trail's surface and dimensions make it easy for people of all ages and abilities to enjoy it. Its centerpiece is the majestic High Bridge, which is more than 2,400 feet long and 160 feet above the Appomattox River. The bridge was built in 1853 as part of the South Side Railroad. The bridge is scheduled to open, completing the park, in mid-April, 2012.
New $3 Field Packs with Self-Guided Hikes and Fitness Trail in Leesylvania State Park
Nestled along the shores of the Potomac River, Leesylvania State Park offers many land and water related activities including hiking, picnicking, fishing and boating. New this year, Leesylvania will offer visitors another hands-on way to enjoy the park this spring as they will have field packs to rent for $3. The field packs contain different self-guided hikes that provide the materials visitors need to do everything from bird watch and insect hunt to sketch nature and identify rocks and fossils. Leesylvania also recently opened a fitness trail. The roughly two-mile trail includes different stations where people can focus on balance, strength training, cardio work and stretching.
New EarthCaching Programs at Shenandoah National Park
Shenandoah National Park is introducing two new Ranger Programs this spring: GPS Earthcaching of Stony Man Mountain and Big Meadows. EarthCaching is a "virtual" geocache that contains no physical hidden container or cache – instead the "treasure" is for the Earth's natural and geological features. The EarthCache program is an educational experience that provides the opportunity to explore selected trails while learning some of the history and geology of the park.
April 7: Grand Opening of Go Ape in Williamsburg
Go Ape is an interactive treetop adventure located just minutes from downtown Williamsburg in historic Freedom Park. Upon arriving at the Go Ape cabin, participants are equipped with harnesses, pulleys and carabiners and given training before being let loose into the forest canopy, free to swing through the trees 40-50 above the ground. The course is made up of five individual sections, each section taking you higher into the forest canopy and finishing with a zip line more exciting than the previous one. There are 38 crossings and obstacles which include, rope ladders, net bridges, trapezes, Tarzan swings and 5 zip lines. The entire experience takes 2-3 hours to complete and caters to all skill levels.
Natural Retreats Comes to Bath County
Amid the awe-inspiring Allegheny Mountains and bordered by the Nature Conservancy's Warm Springs Mountain Preserve and the George Washington National Forest, Natural Retreats Virginia Hot Springs is the region's new wilderness retreat that blends luxury accommodations with unique wilderness activities. Accommodations are new high end residences that are part of the 11,500 acre Homestead Preserve and trips are managed by a concierge who arranges a wealth of activities from hiking, horseback riding, skiing, fly fishing, golf, spa visits and more.
Primland Revs Up Family Fun
Starting in April, families will be able to enjoy new dual passenger side-by-side ATVs so children can do the guided trail rides with their parents at Primland Resort in Southwest Virginia. In addition, there will be a new sporting clays game along with all the other outdoor activities offered at Primland including geocaching, mountain biking; hiking on a restored six-mile section of the Old Appalachian Trail; horseback riding; tree climbing and more.
New Regional Fishing Trail in Southwest Virginia
The Blue Ridge Highlands Fishing Trail, a new regional fishing trail with Wythe, Smyth, and Washington counties offers up some of the best fishing in the state such as Whitetop Laurel Creek, which is one of Virginia's largest and most beautiful trout streams. In Wythe and Grayson counties, you'll find the New River which is ranked in the top five best smallmouth bass fisheries in the nation. Another lake fishing destination is Hungry Mother Lake which is located within Hungry Mother State Park in Marion, Virginia. The countless Virginia State Park amenities make it a great family destination.
New Launch Sites for Canoeing and Kayaking in Scott and Botetourt
Scott County has invested in their blueways as they are home to one of the most bio-diverse rivers in North America, the Clinch. The County is creating access points for tourists every 2 - 4 hours down this natural asset. Scott County has the regions only outfitter (Clinch Valley Outfitters) that offers a wide variety of guides floats not only for recreation, but teaching the ecology as well. Access points are also being created along the Holston River, which is ideal for trophy bass fishing. Extreme adventurists can kayak over Little Stoney Falls.
Similarly, Botetourt County has added new launch sites for the Upper James River Water Trail at Alpine and Springwood. Another site at Gala is also being worked on and is slated for completion in the near future.
New Mountain Biking Trail in Woolwine
The Patrick County Bike Club has put in over 12 miles of hiking and mountain biking trails in I.C. DeHart Park in Woolwine, Virginia. The trail system, dedicated in June 2011, has some very challenging climbs and descents for the mountain biker and has some beautiful scenery for the hiker. Most all trail options are rated difficult to most difficult, due to tough climbs, and technical, rocky downhills. This system has a feature to satisfy any mountain biker - rustic bridges, bermed curves, jumps, skinnies, rocks, roots and two half-pipes for good measure. Signs are posted to help navigate and a kiosk is being constructed and should be up soon. Currently, a two-mile section of trail just for beginners and light hikers is also being installed, which adds scenery by staying close to a river bank.
New Trails in Fauquier
The Fauquier Trails Coalition and Fauquier County Parks & Recreation have made great strides in expanding Fauquier's trails and greenway system. Two new trails are White's Mill Trail, a trail within the 70-acre stream valley park near Warrenton open for biking, hiking and wildlife observation. The trail winds along the constructed wetlands bordering Cedar Run. The trail is paved, has multiple bridges, and covers approximately 1.25 miles. The Northern Fauquier Community Park Trail is another new addition, boasting a 1.75-mile trail that passes ball fields, playgrounds, lake, shelters and an amphitheater. The trail meanders through native plant landscaped beds and covers the majority of the park land. This is a great choice for new bike riders, walkers, and joggers and is ADA accessible.
SUP Tours of the James Rivers and New Rivers
In Richmond, learn the fun and exciting outdoor sport of Stand Up Paddle (SUP) on The James River and many other surrounding waterways in Richmond, Virginia with Black Dog Paddle. SUP is the combination of canoeing, kayaking and surfing. Using a canoe-like paddle and standing atop a stable and balanced long board, paddlers propel themselves through the water with smooth alternating strokes. Black Dog Paddle offers a variety of SUP tours of inland waterways. Southwest Virginia's new outfitter, Tangent Outfitters, offers a couple new SUP tours on the New River as well.
New Tree Climbing and Eco-tours in Richmond
Riverside Outfitters now offers the chance for anyone age five or older to climb to sky-high branches using safety techniques borrowed from professional arborists. Discover The James provides a variety of new educational eco-tours and fishing trips for all ages. Captain Mike Ostrander and his team of guides have a trip for everyone's interests from wildlife watching, history and fishing.
New Fun on the Water and Land in Loudoun
BTI Whitewater is now Harpers Ferry Adventure Center (HFAC) and is expanding their business with new features and events. In addition to tubing, kayaking and whitewater rafting, HFAC now offers scenic riverside camping on private property, guided educational hiking trips at the Blue Ridge Center for Environmental Stewardship including a scavenger hike, wine tastings with Loudoun wineries at the HFAC wine bar. In spring 2012 will be opening a new zipline canopy tour.
Elizabeth Mills Riverfront Park and Kephart Bridge Landing, is a new park in Loudoun including 122 acres of passive parkland with access to the Potomac River and Goose Creek at the non-motorized boat landing at Kephart Bridge Landing in Lansdowne. The park is home to the historic Elizabeth Mills canal lock system and contains a section of the Potomac Heritage National Scenic Trail.
Fairfax County Cross County Trail
The Fairfax County Park Authority worked cooperatively to complete the Cross County Trail (CCT), a trail in Northern Virginia that is more than 40 miles long connecting the entire county of Fairfax from one end to the other. The Cross County Trail runs through some of the county's most scenic areas, beginning at Great Falls National Park on the mighty Potomac River and extending south to the Occoquan River and Laurel Hill. Here, hikers, joggers, equestrians, strollers and cyclists can discover a natural wonderland.
Bike the Creeper Trail in Style
Starting in April 2012, The Martha Washington Inn and Spa will be offering shuttles up to White Top Mountain to ride the Creeper Trail in an upscale passanger van with new Trac bikes.
A Fort of Fun in Newport News
The newly renovated Fort Fun at Huntington Park has more than 14,000 square foot of play area with an open view, accessible play structure. Visitors enter a wooded forest that opens into an amazing play zone full of trees, swings, forts, slides and numerous climbing opportunities. Explorers move to the "open waters" where pirate ships await full of interactive play equipment.
Love is at the heart of every Virginia vacation. Visit http://www.Virginia.org/outdoors to start planning a Virginia outdoor getaway today. Or call 1-800-VISITVA to request a 2012 Virginia is for Lovers travel guide.