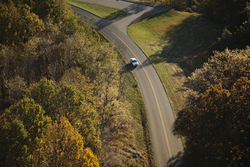 Virginia's brilliant colors bring tranquility and beauty to autumn and the perfect getaway
Richmond, VA (PRWEB) September 9, 2010
Each fall when Virginia's leaves turn brilliant shades of red, yellow and orange the Commonwealth becomes a favorite destination for those who love the splendor of autumn foliage. The tranquility and beauty of autumn in Virginia provides the perfect setting in which to reconnect with each other. It's a natural season for enjoying the best of togetherness with loved ones.
To get the most out of fall in Virginia, plan a getaway that combines scenic beauty with memorable things to do together. Here are nine scenic drives in Virginia that offer gorgeous fall foliage as well as that special something extra that visitors can enjoy together:

Nelson Scenic Loop: Traversing 50 beautiful miles along the eastern side of the Blue Ridge Mountains, the Loop includes four Scenic Byways west of Charlottesville. Take a hike and have a picnic at Crabtree Falls, the highest vertical cascading waterfalls east of the Mississippi. Fish for mountain trout in a stocked pond at Montebello. Stay overnight in a creekside cabin and cozy up.
Blue Ridge Parkway: Cruise along the Parkway this fall and celebrate 75 years of America's Favorite Drive. Generations of visitors have made annual fall pilgrimages to the Parkway to view its natural splendor and breathtaking views. Along the way are restaurants and stores, hiking trails and diverse overnight accommodations. Learn about the life of early mountain settlers and watch living history demonstrations at Humpback Rocks Visitor Center. Visit Mabry Mill, the most photographed site on the Parkway. Join a nature hike led by friendly park rangers. Enjoy a romantic dinner at Chateau Morrisette Winery. Watch luthiers crafting fiddles and mandolins at the Blue Ridge Music Center. More ideas are found on Virginia.org/brp.
The Crooked Road: Virginia's Heritage Music Trail winds through the mountains and valleys of Southwest Virginia, a major wellspring of American roots music and one of Virginia's best regions for fall foliage. Country music traces its beginnings here and the area is still a hotbed of bluegrass and Old Time music. Live music venues, museums and cultural centers lie along the trail. Some of bluegrass music's top acts perform at the Carter Family Fold, the Floyd Country Store and the Rex Theater in Galax and impromptu jam sessions pop up in barber shops and ice cream stands in small communities throughout the region.
Skyline Drive: This roadway is the main artery of Shenandoah National Park and one of America's best fall foliage destinations. The drive itself is a worthy journey but there is so much more to enjoy along the route. Stay overnight at Skyland Lodge, Big Meadow or the rustic cabins at Lewis Mountain. At dusk, herds of deer come out to graze in meadows and along roadsides. The eastern black bear can be seen along with a large variety of songbirds.
Virginia's Wine Destinations: According to Luca Paschina, one of Virginia's leading winemakers, "A true wine experience is not only about wine ... It's about food ... landscapes ... visiting historic sites. It's about other things that all together are a true great wine experience." That is particularly true in the fall. Virginia now boasts more than 150 wineries, many nestled along the hillsides of Virginia's pastoral Piedmont region. The area is canopied in color during the fall and is filled with the variety of things that make up that "true wine experience." October is Virginia Wine Month and the wineries celebrate with festivals and special events. Try one of these three drives for starters:
Charlottesville area: The Monticello Wine Trail combines natural beauty with 22 of Virginia's leading wineries. Presidents Jefferson, Madison and Monroe made their homes here for a reason. The glory of the countryside in the fall is unmatched. Fine country inns and exceptional dining (some of which can be found at the wineries themselves) are an essential part of the experience.
Warrenton/Fauquier County: Historic back roads bounded by stone fences cut through rolling terrain in Fauquier County, and nearly every one of them seems to lead to a winery . More than twenty wineries are now in the county and range from big and splashy to small and intimate. Pick a variety to visit – and enjoy the journey that is as fulfilling as the destination.
Leesburg/Loudoun County: This is the heart of Virginia's horse country. Horses of high blood roam the paddocks of farms dating to the 1800s. The roads that meander through the area are ablaze with color in the fall. Twenty-two wineries, including some of Virginia's oldest and newest, welcome fall visitors for an afternoon on the terrace with a glass of good wine and a fall view.
Lexington to Warm Springs through the pass: Lexington is one of America's most historic and beautiful small towns and is at the eastern end of one of Virginia's best fall drives. Going northwest out of Lexington, take Rt. 39, a scenic Virginia Byway that parallels the Maury River. At Goshen Pass the river comes gurgling through a boulder-strewn gorge where the western mountains end at the Shenandoah Valley. Continue westward to the village of Hot Springs and go south on Highway 220 to The Homestead, one of Virginia's premier four-seasons resorts. Activities there include horseback riding, canoeing, carriage rides, hayrides and even falconry.
Down the ShenandoahValley on Backroads: Interstate 81 runs the length of the Shenandoah Valley and in the fall might be one of the most beautiful superhighways in the country. But for those wishing a more leisurely pace while leaf peeping, get out of the fast lane and onto a secondary road. Highway 11 parallels I-81 and takes drivers through the hearts of small Valley towns with antique shops, historic sites, restaurants and inns. Farther off the beaten path lie treasures such as the Dayton Farmers Market, Luray Caverns and the Andre Viette Nursery. At Front Royal look for canoeing rentals for an unforgettable fall float down the picturesque Shenandoah River.
Journey Through Hallowed Ground: The 180-mile National Scenic Byway and National Heritage Area enters Virginia in Loudoun County and winds its way south along Highways 15 and 29 to its terminus at Charlottesville. This is some of America's most historic and most beautiful landscape that's at its best in fall. Look for farmers markets, wineries, outdoor recreation sites, historic homes and towns, Civil War battlefields, antebellum estates and honored establishments such as the Inn at Little Washington and Keswick Hall.
Colonial National Parkway: In late fall, after the colors have crested in Virginia's mountains, fall foliage can be enjoyed in the eastern part of the Commonwealth. One of the best routes for late leaves is the 23-mile Colonial National Parkway, a National Scenic Byway connecting historic Jamestown and Yorktown and passing through Williamsburg. Devoid of billboards and other advertisements and with easements keeping much development hidden, the Parkway is a peaceful and beautiful meander. Colonial Williamsburg is gorgeous in the fall and is one of America's best family destinations. Historic Yorktown has a vibrant waterfront and historic homes. Jamestown's attractions detail the history of the earliest permanent English settlement in the New World along with the Virginia Indians who lived here long before.
Scenic fall foliage drives in Virginia take on new and memorable dimensions when one sees amidst the trees a world of experiences to enjoy together.
Love is at the heart of every Virginia vacation. To plan your fall vacation or getaway visit FallinVirginia.org. For a free Virginia is for Lovers Travel Guide call toll-free 1-800-VISITVA.
###