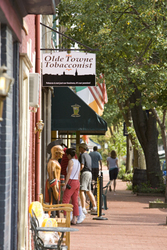 Fall in love with Virginia's small towns. Charming main streets, country stores, farmers markets and fall getaways.
Richmond, Va. (PRWEB) September 14, 2010
Take time this fall to relax and reconnect in the warm hospitality of Virginia's small towns and historic downtowns. Small town Americana charms visitors looking for authentic experiences in historic settings. Old-fashioned country stores, local farmers markets and historic inns are cherished sites in towns across the Commonwealth. These experiences and more are the heart of a romantic fall getaway in Virginia. Find inspiration for trip ideas below or visit http://www.virginia.org/fall/ for more.
Historic Downtowns
Virginia's rich history creates a special backdrop for fall getaways. Small, historic downtowns are walkable destinations with shops, restaurants and galleries for exploring. Great examples include Middleburg, in the heart of horse country in Loudoun County, once favored by Jacquelyn Kennedy Onassis. Stroll the downtown for high-end goods at Market Salamander before enjoying a delicious meal and stay at the Red Fox Inn.
Lexington showcases the beauty of the Shenandoah Valley. Local shops and restaurants, such as the Red Hen, attract visitors from Washington, D.C. and other big cities looking for a quiet place to get away.
The history of Fredericksburg dates back hundreds of years, and it shows in the numerous antique shops in town. Walk from store to store to work up an appetite for cuisine at Poppy Hill or La Petit Auberge to name a few. New lodging options right downtown including Courtyard by Marriott and the 1890 Caroline House make the need for a car obsolete on this getaway.
Ham, history, hospitality and heart is the motto of Smithfield. The town wins hearts with Victorian mansions, boutique pet shops and arts. Historic Smithfield is a delightful shopping area with antique and specialty stores. Visitors will enjoy the bronze statues placed throughout the town square.
Charming Main Streets
Virginia's commitment to historic preservation is highlighted in the Virginia Main Street program, with 21 official Main Street communities across the state. One of Virginia's furthest southwest Main Street communities is Marion, home of the Lincoln Theater. Built in 1929, the Lincoln Theater is one of three existing Art Deco Mayan Revival-style theaters in America. Regular shows and performances take visitors back to a bygone era.
South Boston has a wonderful balance of both rural and urban benefits with distinctive traditions and the lilting rhythm of Southern charm. Visitors will find one of the richest collections of original Victorian architecture in the country, along with signature attractions like Berry Hill Resort and the Prizery, a fine arts and performance destination.
A winner of the Great American Main Street Award, Staunton continues to win rave reviews. This historic downtown is alive with more than 100 unique shops, art galleries and restaurants and the recently-restored Stonewall Jackson Hotel. Staunton also offers nine B&Bs housed within beautifully restored buildings. Catch a play at the Blackfriars Playhouse or tour the Woodrow Wilson Presidential Library and Museum at his Birthplace.
These and more fine Main Streets are detailed on http://www.virginia.org.
Romantic B&Bs and Historic Inns
Historic inns and B&Bs are ideal for a romantic fall getaway to Virginia. These beautiful respites include The Inn at Onancock, a gourmet B&B on Virginia's Eastern Shore, featuring five guest suites, each with an individual theme and flair. Guests love the tranquil breezes that blow in off the bay and "wine down" hour that happens every evening with local wines and foods on the patio.
Thyme Inn in Culpeper is a lovely three-suite boutique hotel in the middle of the historic downtown. Curl up in bed with a good book and glass of wine from Thyme Market. Wake to the smells of coffee brewing and fresh baked croissants. Dine al fresco on a private balcony or in the comfort of the room with a soft fire burning.
The Martha Washington Inn, a charming historic hotel, dates to 1832 and offers fifty-one elegant rooms and eleven suites, each one a little different in decor and furnishings. Located in the heart of Abingdon, the Martha Washington is directly across the street from the Barter Theater, the state theater of Virginia. These two destinations are worth the trip on their own, but add in the arts and crafts boutiques downtown for a remarkable trip.
Tides Inn is located in the quaint, picture perfect small community of Irvington and is nestled on its own peninsula overlooking picturesque Carter's Creek with a view to the Rappahannock River. Visitors come here for beautiful vistas, pampering spa treatments, top-notch dining and unique culture and heritage of the Bay region.
Love is at the heart of every Virginia vacation. Visit http://www.virginia.org for more information. Or call 1-800-VISITVA for a free, Virginia is for Lovers travel guide.
# # #