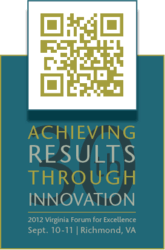 Richmond, VA (PRWEB) August 01, 2012
Virginia SPQA announced its 2012 award recipients following its June 2012 Board Meeting. Seven organizations from across the state received the following levels of recognition including one which received the coveted Medallion for Performance Excellence.
Medallion of Performance Excellence: Mountain States Health Alliance, Southwest VA.
Plaque for Progress in Performance Excellence: Mary Washington Healthcare, Fredericksburg, VA, and Bon Secours St. Mary's Hospital, Richmond, VA.
Certificate for Commitment to Performance Excellence: Global Linguist Solutions, LLC, Herndon, VA. Community Memorial Healthcenter, South Hill, VA, Hunter Holmes McGuire VA Medical Center, Richmond, VA, and the National Reconnaissance Office – Media Services Center, Chantilly, VA
The Award recipients along with the 12 to Watch Program participants will be recognized by the Honorable Jim Cheng, Secretary of Commerce and Trade for Virginia at the 39th annual Virginia Forum for Excellence September, 10-11, 2012, at the Holiday Inn Koger Conference Center in Richmond.
The Virginia Forum for Excellence is the state's premier event for performance improvement professionals. This year's theme is "Achieving Results through Innovation." September 10 showcases pre-forum workshops based on the Baldrige Criteria for Performance Excellence, Lean Six Sigma and other methodologies. September 11, includes 12 workshops devoted to innovation plus keynote addresses from Ms. Teresa Carlson, Vice President, Global Sector, Amazon Web Services and Ms. Julia Swanson, Director Performance Analytics and Improvement for the Henry Ford Health Systems, winner of the 2011 Baldrige Award for Performance Excellence.
Additional information is available at Virginia SPQA.
The United States Senate Productivity Award Program for Virginia (Virginia SPQA) is one of 38 state non-profit, volunteer organizations which administers state based quality award programs using the Baldrige Criteria. Virginia SPQA has been in existence since 1983.