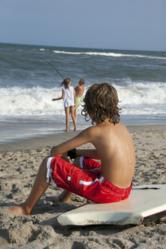 A wide variety of beaches, summer activities, fun and adventure make Virginia the ideal summer destination
Richmond, VA (PRWEB) May 26, 2011
Virginia is announcing what's new at the state's beach destinations. Summer is one of the best seasons of the year and Virginia has 3,000 miles of coastline ready to welcome families looking for fun and relaxation.
Virginia's many beaches and waterfront destinations, including beachfront paradise along the Atlantic Ocean and the Chesapeake Bay, are full of fun and adventure. Memorable destinations such as the Eastern Shore, Virginia Beach, Norfolk, Hampton and the Chesapeake Bay present unique summer vacation options that cater to families looking to completely connect with loved ones on vacation.
Wildlife Wonders of the Eastern Shore
Virginia's Eastern Shore is an ideal destination for families seeking fun in the sun in a natural backdrop. Home to several pristine beaches and wildlife preserves, the Eastern Shore is a summertime delight.
At the southern tip of the Eastern Shore is Kiptopeke State Park, a perfect place for families who love beaches, nature and camping. Kiptopeke's beachfront hugs nearly half a mile of the Chesapeake Bay. The park offers four miles of hiking trails and is the only Virginia state park to feature a yurt – a cross between a tent and a cabin. The Kiptopeke yurt has a spectacular view of the Chesapeake Bay with a large wooden deck, picnic table and fire ring. Families will also love the park's five, 6-bedroom lodges with gas fireplaces.
Cape Charles Beach is known for shallow Bay waters and no waves, ideal for families with small children. Cape Charles is the Eastern Shore's southern-most town on the Chesapeake Bay. Cape Charles is a quintessential Virginia small town, with B&Bs, restaurants and shops lining the main street. It's also just minutes away from the 1200-acre Eastern Shore of Virginia National Wildlife Refuge, one of Virginia's premier birding and wildlife sites.
Visit the Shore's sister islands of Chincoteague and Assateague, at the northern tip of the peninsula to experience natural gems for wildlife and pure beach bliss. The National Wildlife Refuge in Chincoteague includes more than 14,000 acres of beach, dunes, birds and wildlife. The unspoiled scenery of Assateague is the perfect backdrop for gazing upon the island's wild life. In addition to an expansive, pristine beach, Assateague operates two visitor centers and miles of hiking trails. One of the best hikes is up to the top of the Assateague lighthouse. Visit in July for the annual Pony Swim and Auction, where saltwater cowboys round up the ponies on Assateague and swim them across to Chincoteague. Broaden the Chincoteague experience by enjoying delightful B&B's, restaurants, shops, craft galleries and one-of-a-kind museums. Camping, crabbing, fishing, kayaking, canoeing, hiking and bicycling add to the family bonding.
Action-packed Family Fun at Virginia Beach
Families seeking an action-packed beach experience will find it at Virginia Beach. The longest pleasure beach in the United States, it's perfect for building sand castles, collecting sea shells or lounging under an umbrella.
Along Virginia Beach's 3-mile oceanfront boardwalk, families can bike, roller blade or rent a tandem bike. Fishermen big and small love the waters around Virginia Beach. Many free, family-oriented events take place along the boardwalk, such as concerts, festivals and sporting events. There is also Beach Street USA, featuring free entertainment along Atlantic Avenue with jugglers, mimes, jazz music and more - all adding to the excitement of Virginia Beach.
Not every Virginia Beach activity is fast paced. There is also opportunity to gaze at beach wildlife at the 800-acre Back Bay National Wildlife Refuge and at First Landing State Park, with outstanding hiking and biking trails for families with a passion for nature.
A trip to Virginia Beach isn't complete without visiting the state's largest aquarium, the Virginia Aquarium & Marine Science Center. With 700,000 gallons of aquariums, live animal habitats, three touch tanks, more than 300 hands-on exhibits, an outdoor aviary, 10 acres of marsh habitat and a three-mile nature trail, boredom is simply not an option! Highlights include sharks, sea turtles, harbor seals, river otters, stingrays and more. The aquarium also has 3D IMAX® Theater with a screen that's six stories high.
Virginia Beach is also home to JT's Grommet Island Beach Park and Playground for Everybody - the first of its kind in America. This oceanfront park and playground is 100% handicap accessible. It's an oceanfront destination that's welcoming to disabled children and adults, and ensures everyone a day at the beach.
Ships Ahoy in Norfolk
Norfolk is the destination for families with little sailors. Kids and grown-ups will marvel at the sea life and nautical treasures at Nauticus. Nauticus is an interactive science center with a maritime theme and features more than 150 exhibits, giant screen films, exotic aquaria and touch pools. The USS Wisconsin, one of the last and largest battleships built by the U.S. Navy, is adjacent to Nauticus and open for main deck tours.
Norfolk's Ocean View Beach stretches continuously along eight miles of the Chesapeake Bay. The city's beaches are wide with gentle surf, lifeguards in the summer, picnic pavilions and free parking. Norfolk's Town Point Park overlooks the harbor and is the site for many events, such as the annual Harborfest every June, featuring a fine array of tall ships.
Space and Sea in Hampton
Hampton is the birthplace of America's space program and home to NASA Langley and Langley Air Force Base. The Virginia Air & Space Center in Hampton is the visitor center for both sites, so families can mix fun and learning. Visitors can take a virtual voyage to Mars, fly a full size DC-9 aircraft, and launch a rocket. They can see a moon rock, a Mars meteorite and the Apollo 12 Command Module, plus enjoy 3D IMAXÒ films on a five-story screen.
What about the water? Hampton has 12 deep-water marinas as well as Buckroe Beach, which offers eight acres of beach, a playground, picnic shelters, a walking and bike path, a pet-friendly Bark Park and concert bandstand. Beach chair, umbrella, kayak and paddlecraft rentals are available and parking is plentiful, making a visit to Buckroe Beach convenient and enjoyable.
River Beachfront
Tales of imaginary catches are not necessary in Virginia. Fishermen revel in the variety of both freshwater and saltwater fish in the tributaries to the Chesapeake Bay and Atlantic Ocean. On the Northern Neck, which stretches between the Rappahannock and Potomac Rivers, five small public beaches run along the Potomac, such as Westmoreland State Park's beach and Colonial Beach, the northernmost beach and site of George Washington's Birthplace.
Westmoreland State Park offers many opportunities for family fun – an Olympic-sized swimming pool, launching ramp for power boats, campgrounds, cabins, fishing pier, boat rentals and six miles of trails. Fossil collectors enjoy hunting for shark teeth on the Potomac, and birding enthusiasts find the park an excellent site for spotting American bald eagles, ospreys, kingfishers, great blue herons, common terns, green herons, gulls and wintering waterfowl.
Love is at the heart of every Virginia vacation. Visit http://www.Virginia.org to start planning a trip or call 1-800-VISITVA to request a free, Virginia is for Lovers travel guide.
###