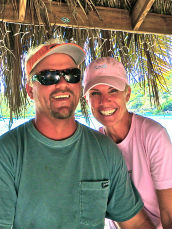 "Theres nothing quite like the romance of the tiny island of Marina Cay"
St Thomas, Virgin Islands (PRWEB) February 13, 2013
Virgin Island Sailing School and Charters welcomes Captain Richard Russ and Chef Miss as the newest captain and crew members. They join VI Sailing School and Charter in expanding their All Inclusive charter crew.
Captain Richard Russ (affectionately known as 'Capt. Rick') has over 20 years international maritime experience, crucial to safe and successful navigating. A former Merchant Marine, his experience and local knowledge mean greater peace of mind for his guests. He is also a certified PADI Dive master. Captain Rick is originally from Jacksonville, Florida and loves SEC football (He's also known as the 'Captain of Darkness' because he enjoys the peace and beauty of sailing at night).
Mate/Chef Miss entertained her advertising agency clients and associates for many years before relocating to St. Thomas. She's a Southern Chef who's crazy about Caribbean food! Having spent a great deal of her life on the Cape Fear Coast, she never met a fish she didn't like (to eat). When she's not busy in the galley or assisting on board, she's a mom and writer, working on a book/cookbook that will chronicle their adventures and great cuisine on the water.
Captain Rick and Chef Miss know the islands well. The adventurous pair are available to tailor sailing vacations to be destination specific, no matter what you may be in the mood for. "Friday nights will never be the same after you've danced the night away at Leverick Bay with the Jumbies, or there's nothing quite like the romance of the tiny island of Marina Cay". Some other favored destinations Captain Rick and Chef Miss travel to included Anegada, BVI. This Island with few inhabitants is known as the "Drowned Island" where the pristine water meets the shores. Captain Rick and Chef Miss will treat you to a daytime safari to see wild flamingos, and an evening of lobster grilled on an open flame.
For those that wish to learn to sail in paradise, Virgin Island Sailing School offers Captain only charters and ASA courses in levels 101 through 105 and 114. Courses include island hoping through the British Virgin Islands, getting hands-on experience, and receiving ASA certification to captain your own bareboat charter once complete.
For more information on booking an all-inclusive charter with Captain Rick and Chef Miss go to http://www.Visailingschool.com