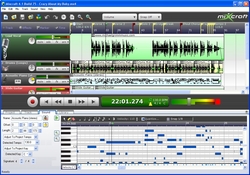 As a collector of vintage synthesizers
Oakhurst, CA (PRWEB) February 5, 2008
Mixcraft 4 virtual instrument technology is an exciting new innovation that allows anyone with an inexpensive MIDI controller keyboard to turn their computer into a powerful musical instrument. Instead of purchasing a single synthesizer keyboard containing a limited collection of sounds and costing from US$800 to US$3000 and beyond, your computer can be used as a musical instrument with an infinite palette of sounds. Thousands of software-based instruments, made by hundreds of manufacturers, can be used to create the sounds of pianos, organs, guitars, orchestral instruments, drums, synthesizers, and vintage electronic musical instruments from the 60s, 70s, and 80s.
Mixcraft 4 comes bundled with a large collection of virtual instruments, including:

MinimogueVA classic analog synthesizer recreation.
VB3 Organ virtual tonewheel organ with rotary speaker emulator.
Impulse polyphonic analog synthesizer.
Acoustica Instruments, a large collection of high quality multi-sampled instruments organized in General MIDI format.
Acoustica Grand Piano and Acoustica Classical Piano, ultra-professional 250 Megabyte quadruple-strike sampled grand pianos.
Mixcraft 4 will also work with third-party virtual instruments using the industry standard VSTi format.
Mixcraft 4 includes a powerful new guitar amplifier modeling plug-in effect and a visual spectrum analyzer effect for examining the frequency content of audio. This release also includes 880 new high-quality audio sound effects, giving radio producers and podcasters the tools they need to add realism and excitement to their productions.
Mixcraft 4 is optimized for use in Microsoft Windows Vista. With Microsoft's new WaveRT driver technology, Vista users will enjoy low latency audio without any special hardware or complicated drivers, giving their computers the same performance as hardware synthesizers. Mixcraft 4 also supports professional ASIO low latency drivers, as well as standard Wave drivers.
Joseph Clarke, founder and CEO of Acoustica, explains, "Mixcraft has long been the most powerful, easiest to use, and most affordable software for recording and mixing audio. Mixcraft 4 greatly expands on the music production capabilities of Mixcraft. The new virtual instruments turn your computer into a blank canvas, and your creativity is the only limit. With all of this power, Mixcraft 4 is still deceptively simple to use. For anyone who feels overwhelmed by other recording programs, you'll be amazed at how quickly you can get started with Mixcraft without ever reading a manual! At Acoustica, we believe that software should be easy to use."
"Behind its friendly interface lurks a powerful state-of-the-art audio engine," says Dan Goldstein, Senior Vice President of Development for Acoustica. "Mixcraft features a multi-processor mixing engine optimized for up to 8 CPU cores, true multi-track recording, plus unlimited tracks, virtual instruments, and effects. The software supports Wave, ASIO, and WaveRT drivers, Acid™ and Garage Band™ loops, 192 kHz recording, DirectX and VST effects, VSTi instruments, automatic remixing, and more. The sound quality is phenomenal, the interface is highly customizable, and the price is outstanding. Our competitors charge more for a single piano instrument than we charge for the entire Mixcraft 4 package, which includes all of the instruments, plus thousands of loops, sound effects, and audio effects. Mixcraft 4 truly puts professional studio recording technology into the hands of everyone, at an extremely affordable price."
"As a collector of vintage synthesizers," continues Goldstein, "I've personally accumulated over US$50,000 worth of classic analog synthesizers, electro-mechanical organs, digital samplers, modular synthesizers, and electric pianos. With Mixcraft 4, we've put all the sonic power of my studio into your laptop. Whether you perform classical piano pieces, play organ for your church choir, compose techno music, or tear up the stage with soaring synth and B3 solos, you'll find there's no sonic limit to what Mixcraft 4's virtual instruments can do."
Adam Holden, a Mixcraft 4 user from the United Kingdom, writes, "Mixcraft 4 has made my everyday recording activities easier than ever before and has made making music even more enjoyable! I used to spend endless amounts of money paying for customized backing tracks for my songs, but now, with Mixcraft 4, I can make them myself with the built-in MIDI support -- with amazing sound quality far better than any MIDI engine I have heard! I've used other software that costs around $900 and, to be honest, I was lost within 10 minutes of using it. But with Mixcraft 4 I made a fully-customized track with vocals, virtual instruments and a load of effects within the same amount of time! And the end result was just as good as it would have been on a far more expensive product. I don't know what I would do without Mixcraft 4!"
A free 7 day trial of Mixcraft 4 is available for download at http://www.acoustica.com/mixcraft
System Requirements:
Windows 95, 98, ME, NT, XP, or Vista.
512 MB Ram (1 GB RAM recommended).
1 GHz CPU (Dual Core or Quad Core recommended)
Sound card or USB/Firewire sound device.
Pricing:
Download (ESD) Price $64.95 Retail Price $74.95. Upgrade Pricing is available for eligible users.
###