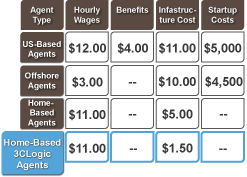 With 3CLogic's cloud based call centers based on VoIP and virtual capabilities, it actually costs less to have home based agents in the US than having agents overseas. The myth of cost savings with outsourcing has been disproved at this point
Rockville, MD (PRWEB) December 20, 2011
3CLogic, the leader in cloud based call center confirmed today that it sees a definite reversal in the trend of outsourcing call center jobs to other countries. Cloud based call center service providers like 3CLogic are in a great position to help those companies which are bringing jobs back to US. Specifically, the virtual call center capabilities from 3CLogic provide the flexibility of having home based agents. Recent reports indicate US unemployment rates remain persistently high at 8.6%. In previous years, many businesses resorted to outsourcing their call center inquiry and support lines overseas in hopes of lower cost per call and lower labor costs. What they didn't realize, however, was just how much they were putting their business and their country in a down-spiral recession. While outsourcing may have cut costs in areas such as infrastructure and utility fees in the past for some businesses, it has also reportedly lowered customer satisfaction and brand loyalty for them as well.
According to a recent report by Datamonitor, there are an estimated 243,000 offshore agents currently handling calls from U.S. consumers. While outsourcing customer support lines to other geographical locations may seem to be cheaper in terms of hourly agent pay or cost per call, there is a huge disconnect between customers and off-shore agents. Customers call in with questions, comments and inquiries; expecting nothing less than the best of breed support. No customer wants to wait on hold or be charged with extra over-sea phone fees, and they most certainly don't want to speak with an agent who doesn't understand their problem or concerns. By outsourcing your agents, you risk compromising your customer satisfaction rates, lowering your reputation, and hitting your business where it hurts: revenue.
"With 3CLogic's cloud based call centers based on VoIP and virtual capabilities, it actually costs less to have home based agents in the US than having agents overseas. The myth of cost savings with outsourcing has been disproved at this point; showing how logical and cost efficient it is to home shore and bring down the unemployment rate", said Raj Sharma, President and CEO of 3CLogic.
Furthermore, it doesn't take much for businesses to realize that lack of agent retention, loss of productivity and faulty customer support produced by outsourcing call centers dramatically lowers their revenues and sales. Companies that have mastered the art of home-shoring reap the benefits at a time where their customers need quality customer support the most. Companies such as 3CLogic provide businesses with top of the line contact center software to perform full-featured capabilities at a fraction of the cost of traditional and outsourced call centers. Businesses experience customized scalability and flexibility as they have the choice of launching their contact centers fully from the cloud. This cuts infrastructure and maintenance fees, and brings well needed jobs back to the US.
About 3CLogic:
3CLogic, headquartered in Rockville, Md., is a leading provider of cloud based call center and social media applications for interactive e-commerce transactions. 3CLogic adds voice, chat and text capabilities to any e-commerce transaction on social media networks and combines them with a cloud based contact center solution.3CLogic's Inbound Cloud Call Center and Hosted Predictive Dialer, combined with cloud technologies, helps companies of all sizes increase sales and provide better customer service. For more information, please contact3CLogic at 800-350-8656 or info(at)3clogic(dot)com. http://www.3clogic.com.
# # #