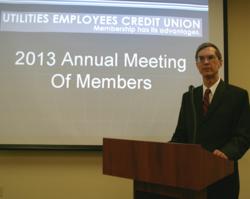 UECU enriched its members with more than $12 million in 2012.
Wyomissing, PA (PRWEB) April 17, 2013
Utilities Employees Credit Union (UECU), a virtual credit union serving the nation's utility and energy industry, recently reported on its contribution of $12 million to its 44,000 members during the 2012 fiscal year. The organization made the announcement at its annual meeting held on March 28, 2013 at its Wyomissing, PA headquarters. UECU, which has no stockholders, is a full-service financial institution whose member-owners receive the credit union's profits in the form of financial returns, member rewards, and numerous cost-free financial services.
"In 2012, we added an even greater level of personal service to the UECU membership experience. We provided our members with new and enhanced tools to access their funds, personalize their home banking options, receive financial education and individual guidance, and manage their family budget," says Glen A. Yeager, President and Chief Executive Officer of UECU. "On top of these new initiatives, our commitment to member giveback remained strong, with members receiving more than $12 million in financial benefits through UECU's 2012 Member Loyalty Bonus™, rewards programs, and earnings on their savings. Members saved millions more through lower loans rates and fewer fees than if they'd dealt with a bank."
UECU's annual meeting included reports from Yeager and the UECU Board of Directors on the credit union's 2012 financial performance and achievements. Last year was marked by UECU's development of new features for its already-extensive home banking services, including personalized account dashboards and free tools for family budgeting and personal financial management, which debuted early this year.
Other 2012 additions to UECU's services included enhanced access options for members' Health Savings Accounts, new UECU financial wellness education materials, the introduction of UECU's Wealth Management Department, and UECU's new MyPay™ Account, an alternative checking account for members who may not qualify for traditional checking. UECU's 2012 financial performance highlights include reaching $1 billion in assets and recognition as one of only 2% of U.S. credit unions to receive the Excellent "A" Rating for financial stability from the independent Weiss Ratings firm.
At its Annual Meeting, UECU also announced several upcoming 2013 initiatives, including the expansion of its financial products and account access options, which will soon include mobile banking.
"This year, UECU will introduce member-friendly mobile banking, add insurance services to our investment and wealth management offerings, further expand our online financial services, and proactively maintain our strong financial position," says Yeager.
The organization's 2012 UECU Annual Report is available on the UECU website and video coverage of the UECU Annual Meeting is provided on Utilities Employees Credit Union's YouTube Channel at the following location: http://www.youtube.com/user/UECUorg. All UECU members receive a yearly invitation to participate in the annual meeting. The event is also attended by the credit union's volunteer Board of Directors, who serve as representatives of its members and are employees or retirees from several of the 600 utility and energy companies that offer UECU membership as a free employee financial benefit.
To learn more about Utilities Employees Credit Union, visit http://www.uecu.org.
About Utilities Employees Credit Union:
Utilities Employees Credit Union is a nationwide, virtual credit union providing financial services to energy and utility workers and their families since 1934. Its membership includes the employees of 600 companies and members of Energy People Connect, an association for individuals currently employed or pursuing employment in the energy industry. UECU is among the two percent of U.S. credit unions to receive an A "Excellent" Weiss Rating for financial soundness and one of the few financial institutions to reward its members with a year-end bonus dividend, which last year totaled nearly $1 million.
###