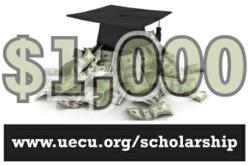 UECU is awarding $1,000 scholarships to students with a family or academic connection to the energy or utility industry.
Wyomissing, PA (PRWEB) May 31, 2013
Utilities Employees Credit Union (UECU), the billion dollar virtual credit union serving the U.S. utility and energy sector, has selected the winners of its 2013 Student Scholarship Contest.
Winners Miranda S. and Jenalee S., both of Pennsylvania, entered essay submissions presenting the benefits of credit union membership to utility and energy industry workers and their family members. Each will be awarded a $1,000 education award in the annual UECU Student Scholarship program for students who are the family members of workers in a utility or energy industry, or are themselves pursuing employment in energy-related fields.
"As a not-for-profit, financial co-operative, UECU returns its profits to our member-owners of all ages, through exceptional savings returns, highly affordable lending rates, and financial rewards," says Glen A. Yeager, UECU's President and Chief Executive Officer. "We are highly committed to programs that help our young members pursue their career goals and build a financially-sound future – including our annual UECU Student Scholarship."
Each year, the organization announces a new theme for entries to the UECU Student Scholarship Contest, which is open to UECU members who are about to enter or are currently attending college or advanced training at an accredited institution. For the 2013 contest, student members were invited to submit a short essay or video sharing the benefits of UECU membership with workers and families in the utilities industry.
This year, credit union members and the family and friends of contestants were also given the opportunity to vote for an additional "People's Choice" winner, who will receive a bonus prize of a gift card for textbook purchases, in a contest taking place on UECU's Facebook page, through the end of May. Year-round contest information and annual submission guidelines for the scholarship contest are provided on UECU's scholarship program webpage at http://www.uecu.org/scholarship.
"As a full-service, virtual credit union we provide the ultimate level of convenience including nationwide, 24/7 account access by Internet or phone – making us the perfect financial institution for young adults at college or about to enter the workforce," says Yeager. "UECU members live in every state and include current energy and utility employees, family of existing members, and former and retired industry workers. We offer life-long membership regardless of where employees and their family members move or travel."
To learn more about Utilities Employees Credit Union, visit http://www.uecu.org.
About Utilities Employees Credit Union:
Utilities Employees Credit Union is a nationwide, virtual credit union providing financial services to utility and energy workers and their families since 1934. Its membership includes the employees of 600 companies and members of Energy People Connect, an association for individuals currently employed or pursuing employment in the energy industry. UECU is among the two percent of U.S. credit unions to receive an A "Excellent" Weiss Rating for financial soundness and one of the few financial institutions to reward its members with a year-end bonus dividend, which last year totaled nearly $1 million.