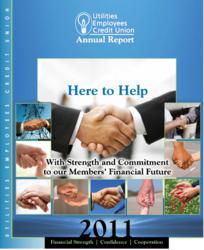 We achieved several milestones, maintained our high standards for fiscal strength, and rewarded our members' loyalty with a $1.2 million cash bonus.
Wyomissing, PA (PRWEB) March 29, 2012
Utilities Employees Credit Union (UECU), a credit union serving the utility and energy industry nationwide, will hold its Annual Meeting on March 29, 2012 at its Wyomissing, PA headquarters, to report on its 2011 financial performance and achievements for its 45,000 members. UECU, which has no stockholders, is a full-service financial institution whose member-owners receive the credit union's profits in the form of financial rewards, lower fees, and superior savings and lending rates.
"Looking back at 2011, UECU's membership and staff can take pride in an outstanding year that celebrated our ongoing commitments to financial integrity as an institution and to the financial success of our members," said Glen A. Yeager, President and Chief Executive Officer of UECU. "We achieved several milestones, maintained our high standards for fiscal strength, and rewarded our members' loyalty with a $1.2 million cash bonus."
At the end of 2011, UECU joined an elite few U.S. credit unions offering a year-end patronage refund or bonus dividend reward. The new Member Loyalty Bonus™ was unveiled on December 31, 2011 and became one of three ongoing member programs that reward UECU members' financial activities and commitment to their credit union.
Earlier in the year, UECU also made news as one of only 28 of the nation's 7,000 credit unions to receive the highest A+ "Excellent" Rating from the independent Weiss Ratings firm. Weiss Ratings ranks the soundness of financial institutions based on measurements including asset quality, capitalization, and financial stability.
For the second consecutive year, UECU was also recognized in 2011 as one of the Best Places to Work in Pennsylvania by the Central Penn Business Journal and its partners including the Pennsylvania Department of Community and Economic Development and the Pennsylvania State Council of SHRM.
All UECU members receive a yearly invitation to participate in the Annual Meeting. The event is also attended by the credit union's volunteer Board of Directors, who serve as representatives of its members and are employees or retirees from several of the 600 utility and energy companies that offer UECU membership as a free employee benefit. Members who are unable to attend in person may read the organization's 2011 Annual Report and view event coverage that will be posted on the UECU website following the meeting.
To learn more about Utilities Employees Credit Union, visit http://www.uecu.org.
About Utilities Employees Credit Union
Utilities Employees Credit Union is a nationwide, virtual credit union providing financial services to utility and energy workers and their families since 1934. Its membership includes the employees of 600 companies and members of Energy People Connect, an association for individuals currently employed or pursuing employment in the energy industry. In 2011, UECU received the distinction of joining the less than one percent of U.S. credit unions to receive an A+ "Excellent" Weiss Rating for financial soundness and one of the few financial institutions to reward its members with a year-end bonus dividend, which last year totaled $1.2 million.