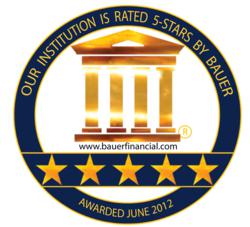 "The prestigious Sustained Superiority Status is earned by fewer than 10% of the nation's credit unions." - Karen Dorway, President of Bauer Financial, Inc.
Wyomissing, PA (PRWEB) July 19, 2012
Utilities Employees Credit Union, the billion dollar virtual credit union that serves the U.S. utility and energy sector, has again been designated as one of the nation's safest and soundest financial institutions. For the 22nd consecutive year, UECU has been recognized with the highest 5-Star "Superior" ranking from independent financial research firm, Bauer Financial, Inc., a distinction shared by less than 10% of U.S. credit unions.
"Everyone on the UECU team is focused on what's best for our membership. That includes not just providing superior rates and service, but also maintaining a strong financial position so the Credit Union is sure to be here when our members need us," says Glen A. Yeager, UECU President and Chief Executive Officer. "We appreciate Bauer Financial's consistent recognition of UECU's fiscal strength."
Based on the results for the first quarter of 2012, UECU again maintained its 5-Star designation, adding to the 88 consecutive quarters in which the credit union has received the highest ranking for financial stability. This sustained rating places UECU in the 90th percentile of U.S. credit unions ranked by Bauer Financial. Bauer recommends those credit unions rated either 5-Star or 4-Star – these credit unions are deemed safe, financially-sound institutions that are operating well above their regulatory requirements.
"The prestigious Sustained Superiority Status is earned by fewer than 10% of the nation's credit unions," wrote Karen L. Dorway, President of Bauer Financial, Inc., in notifying UECU of their status. "To achieve this honor Utilities Employees Credit Union has exhibited the best in such areas as capital adequacy, asset quality and stability, and has done so every quarter for 22 years."
Bauer Financial, Inc. uses reporting data from the National Credit Union Administration to determine star ratings for U.S. credit unions. Bauer classifies each ranked U.S. credit union through a complex formula based on factors including capital, historical performance trends, loan delinquencies and charge-offs, investment portfolio quality, capital reserves, regulatory compliance, and total asset quality. The Bauer Financial Star Ratings Scale uses five levels for credit union ranking: Superior, Excellent, Adequate, Problematic, and Troubled.
Utilities Employees Credit Union achieves a high level of financial efficiency through its business model as a branchless, virtual credit union serving a nationwide membership from its single Pennsylvania headquarters. UECU has provided financial services to utility and energy workers and their families since 1934. Its membership includes the employees of 600 companies and members of Energy People Connect, an association for individuals currently employed or pursuing employment in the energy industry.
UECU is a full-service financial institution with member-focused savings, checking, lending, and credit card products. It is one of the few U.S. financial institutions to reward its members with a year-end bonus dividend, which last year totaled $1.2 million. UECU also offers membership, financial products, and financial wellness education as a free voluntary benefit for utility companies to extend to employees and their families in order to promote financial wellness and enhance worker productivity.
For more information about Utilities Employees Credit Union, visit http://www.uecu.org.
Information about Bauer Financial and its standards for evaluating financial institutions is available on their website http://www.bauerfinancial.com.
###