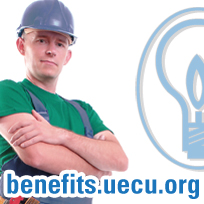 We improve the financial well-being of utility employees and enhance the personal and professional development opportunities an organization can provide to its members and their families.
Wyomissing, PA (PRWEB) August 14, 2012
Utilities Employees Credit Union (UECU) has partnered with Michigan Rural Water Association (MRWA), a state-based professional organization affiliated with the National Rural Water Association. MRWA, which is headquartered in Harrison, Michigan, will now offer UECU's financial benefits to its members, who are employed by 598 water companies and wastewater facilities across Michigan state. UECU offers utility, energy, and related-industry companies a free voluntary benefit they can extend to employees and their family members, to promote financial wellness, reduce employer health care costs, and enhance worker productivity.
Like many organizations in the utility and energy services sector, MRWA's professionals are dispersed among many rural locations to address their mission of maintaining safe, clean water in local communities – making MRWA's partnership with virtual credit union UECU a logical strategy to serve the financial needs of its widely-distributed members. MRWA, itself, employs nine staff members who operate the organization and provide professional and educational member benefits to hundreds of water employees and wastewater employees who belong to the organization. MRWA members represent a variety of utility industry segments, including water utilities, wastewater treatment systems, environmental engineering and testing, and hydrological equipment and power systems.
"UECU is eager to work with MRWA to help their members achieve their financial goals," says Jane Kennedy, Business Development Manager for UECU. "Our mission is both to improve the financial well-being of utility employees and to enhance the personal and professional development opportunities an organization can provide to its members and their families. It's a win-win and the best part is we offer this service at no cost to our sponsor companies and organizations."
On August 23rd, UECU will be a participant in MRWA's Annual Expo and Training Day, being held at Michigan International Speedway in Brooklyn, Michigan. At the event, UECU representatives will share information about its financial solutions for employees and will assist MRWA members who would like to sign up themselves and family members to receive their free credit union benefits.
UECU provides free nationwide access to financial products and services, credit counseling, and financial education to utility workers and energy workers. The credit union offers additional employee promotions, benefits support, and financial education services to companies and professional organizations that offer UECU membership as an employee benefit. Some organizations offer UECU membership as a stand-alone benefit, while others incorporate it as part of a larger financial wellness program or employee assistance program.
To obtain information on providing free employee financial benefits through Utilities Employees Credit Union, companies and organizations in the utility, energy, or related industries can visit benefits.uecu.org or call 800-288-6423, extension 6034.
About Utilities Employees Credit Union
Utilities Employees Credit Union is a nationwide, virtual credit union providing financial services to utility and energy workers and their families since 1934. Its membership includes the employees of 600 companies and members of Energy People Connect, an association for individuals currently employed or pursuing employment in the energy industry. UECU is among the less than one percent of U.S. credit unions to consistently receive the A+ "Excellent" Weiss Rating for financial soundness and one of the few financial institutions to reward its members with a year-end bonus dividend, which last year totaled $1.2 million.
###