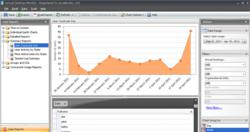 Virtual Desktop Monitor made my IT management life much easier.
Bradley J. Dinerman
Microsoft MVP Security, CISSP, Ph.D
Zagreb, Croatia (PRWEB) June 30, 2011
The first application designed for monitoring the virtualized desktop environment, Virtual Desktop Monitor 1.0, has just been launched. It supports all major VDI technologies and provides detailed monitoring and reporting on all users and software activity.
Acceleratio Ltd, the manufacturer of Virtual Desktop Monitor, is the company specialized in software products for monitoring remote desktop activities. Their products include Terminal Services Log and Remote Desktop Gateway Monitor. Virtual Desktop Monitor completes the product line by covering the fast growing VDI market.
Virtual Desktop Monitor consists of three main reporting categories: user activity, application usage and license compliance. User activity reports help in recognizing how efficient employees are and give deep analysis of the behaviour for each team or team member. Application usage reports show how much each application is used and emphasize application usage patterns. License compliance reports indicate if you are over-licensed or under-licensed for a certain software product being used in the virtual desktop environment and therefore enable organizations to optimize licensing costs.
All reports can be scheduled to be received by email. Custom reports are also supported and can be created using a simple wizard.
Virtual Desktop Monitor runs on Windows Server 2008 R2 and supports all major desktop virtualization technologies including Citrix XenDesktop, Microsoft Desktop Virtualization, Quest vWorkspace and VMware View. Customers using any of these technologies have the same, complete set of features available.
The product is licensed per number of monitored virtualized desktops. The price starts at $999 for a 25- desktop license.
Additional information and trial version download are available at http://www.virtualdesktopmonitor.com.
"I am very happy that Virtual Desktop Monitor has finally been launched since we had many inquiries from our existing customers asking for that type of product. The product will be an important enhancement of our existing suite of server monitoring products. Even before the official announcement, many people found the website and asked if they can try the beta because there are no similar offers on the market. That makes us believe we are on the right track!" said Frane Borozan, head of SBC/VDI product group in Acceleratio Ltd.
About Acceleratio, Ltd.
Founded in 2008., Acceleratio Ltd. is a software development company based in Split, Croatia, Europe and Ronkonkoma, New York, US. The company specializes in developing high-quality enterprise applications and provides consulting for remote desktop technologies. Acceleratio's products are used by organizations worldwide on thousands of servers, with the mission to improve the performance and reliability while decreasing the total cost of ownership through innovative software.
###