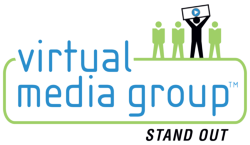 Products that have a video are 95% more likely to be bought.

-Internet Retailer
St. Louis, MO (PRWEB) November 27, 2012
According to a recent survey by Internet Retailer. "Products that have a video are 95% more likely to be bought."
"Many people are visual learners, and just about anyone would find a professional, well-thought-out video more entertaining and informative than plain text alone. This is a reason that pictures are included in most pamphlets on a particular product or service: it's more interesting and visually appealing. In the same way, videos about a product draw the viewer in and can even make a company seem more personable." says Todd Wallis, founder and president of Virtual Media Group, a St. Louis based corporate video production company.
For example, consider picking up an informational flyer on a brand of health food. The flyer may be very well-written, with a list of the different types of food the company offers and nutritional information. The article would most likely list all the benefits of their product and why it's better to choose them over store-bought food or their competitors. They might have catchy slogans and logos, with tantalizing color photos – all of these are great marketing tools in themselves, but how much of all the statistics and information are you going to remember after you've read the flyer? You may glance over it and then wander off, without having ordered anything at all. If, however, there's an informational video on the product playing above the stand – which might have been what attracted you to the display in the first place – you'd be drawn into the bright presentations, the audio/visual cues, the presenter's voice detailing the information in the flyer, and the design of the video – all of which are professionally edited to be as appealing as possible. You are now more knowledgeable about the product than you'd have been if the company had only offered the flyer, and are better informed to make a decision about your purchase.
Here are a few examples of companies that have had success in reaching a larger amount of potential customers with online video:
Stores that offer special classes or promotions. A popular national craft store displays a few television monitors throughout their stores that loop a video giving information on current sales, rewards, classes, and even birthday parties. This video not only goes into detail about each promotion or class, but gives information on how to sign up and any helpful hints or tips that an interested customer would need. This makes it possible for the customer to already be informed about the service they're interested in, making it easier for the sales associate to sign them up. Although the same information might be posted on walls throughout the store or given out as flyers, many customers don't take the time to glance at written information. However, while they're standing in line, they'll pay attention to an instructional video to pass the time. They might never have known about any of these additional services if the video hadn't been playing.
Web Design. Web design is a great example of a company that offers a service, rather than a product, that can benefit from a video. If you design websites for a living, your own website as well as examples from other happy customers, are great promotional tools since they're the end result of what the customer wants. However, if you add a video that introduces yourself, any other people on your team, and highlights customer reviews and maybe even a few shots of your work in action, you're bringing a more personal touch to the service you offer. This attracts customers and makes them feel like they already know the people behind the business.
Before/After Videos. One of the most fun ways to use a video showcasing a company's service or skill is by including before and after shots. If a potential customer is interested in a service such as home renovation, auto repair, plastic surgery, makeovers – anything where an existing feature is repaired or improved – they'll love seeing examples of what the subject looked like before and after the service was rendered. Videos like these build trust and show off the professionalism and skill that your company has in this particular field.
Supplementing the Sales Associates. During the holidays, a high end radio-controlled helicopter toy was heavily playing its advertisements on TV. At the mall, a specialty gift shop stocked the same toy, which, due to the television exposure, might still have sold well if the store had displayed the toy with no additional promotion whatsoever. However, the store's management had one sales associate near the shop's entrance flying the toy around and occasionally allowing careful customers to give it a try. Nearby, an instructional video on the helicopter was looping above the stand. Customers flocked to the store's entrance, watching the video, chatting with the employee, and taking home boxes of helicopters in droves. In the same store, just inside the entrance, was another radio-controlled toy of equally high quality but even lower in price. This toy wasn't receiving the same kind of personal attention and video marketing as the helicopter, and as a result, far fewer customers noticed it, despite the lower cost. This is a perfect example of the power personalized marketing and video presentations can have in catching customers' attention and building trust.
These examples show how effective it is when you provide an engaging, informative video in addition to great customer service, company reputation, and other marketing and advertising tools. When you add a video to your company website, store display, or demonstration booth, you raise the chances of getting your business noticed, and give the customer even more reasons to buy your product.
About Virtual Media Group
Virtual Media Group creates a corporate video quickly and easily that clearly explain what companies offer, delivering a compelling presentation to prospects before they speak with a salesperson. VMG videos engage viewers, guiding them to pick up the phone and take the next step in the sales process. Videos are easily forwarded, allowing company messages to reach more people than ever. As a result, VMG videos increase sales and decrease advertising costs. Founded in 2009, Virtual Media Group is in St. Louis, Missouri.