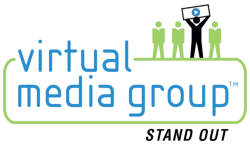 Some individuals may also feel intimidated by personal representatives who talk to them and try to draw them into booths, but feel welcome if those representatives allow a video to speak for them.

-Todd Wallis president of Virtual Media Group
St. Louis, MO (PRWEB) December 14, 2012
Advertisers and marketers understand that the trends that are common in the consumer market. They know that the latest and greatest achievement or innovation in marketing will most likely be taken up and run with by every other company that has the means and capability of doing so. One of the trends that is giving power and bringing attention to companies now is the trade show video. Basically, these are relatively short videos that are put on a loop and play throughout an event to give everyone who happens to walk by or in a booth the opportunity of learning a little bit about the company.
Below are the Top 5 ways to use a trade show videos:
1. In the booth
2. Email invitation to the show
3. On giveaways during the show (CD's, DVDs, & USB Drive)
4. Linked to a printed QR Code on business cards and brochures.
5. As a follow up email after the show.
Furthermore, a trade show video can give positive and helpful information to those who have a vague curiosity without becoming overwhelming. "Some individuals may also feel intimidated by personal representatives who talk to them and try to draw them into booths, but feel welcome if those representatives allow a video to speak for them," says Todd Wallis founder and president of Virtual Media Group Then, if more assistance or information is needed, those individuals are ready and willing to help all that come their way. These videos also help to ease the job of those running a booth and allow them to see who is really interested and who is not from the very first. Through these advantages, the video and the service can work together to create great opportunities that may not have been seen otherwise.
About Virtual Media Group
http://www.vmgonline.com
Virtual Media Group creates unique video presentations quickly and easily that clearly explain what companies offer, delivering a compelling presentation to prospects before they speak with a salesperson. VMG videos engage viewers, guiding them to pick up the phone and take the next step in the sales process. Videos are easily forwarded, allowing company messages to reach more people than ever. As a result, VMG videos increase sales and decrease advertising costs. Founded in 2009, Virtual Media Group is in St. Louis, Missouri.
# # #
Contact: Kevin Wallis info(at)vmgonline(dot)com, (636) 375-0905