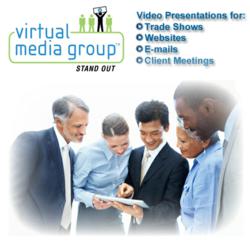 "Since the video series debuted on YouTube, retail sales...have grown five-fold, to an estimated $10 million, up from $2 million …"
- Inc. Magazine
St. Louis, Missouri (PRWEB) November 09, 2012
Top 5 reasons for website videos:
5. Video adds two minutes to a visitors' stay on retail websites. (Comscore)
4. 60% of CEO's said they would prefer to watch a video before reading text. (Forbes)
3. 87% of consumers research products online before buying. (Consumer Intention and Action Survey)
2. Video is 53 times more likely to appear on the front page of Google. (Forrester Research)
1. Products that have a video are 95% more likely to be bought. (Internet Retailer)
According Todd Wallis, Founder and President of Virtual Media Group, a St. Louis-based website video production firm, companies of all sizes are turning to video. Inc. Magazine reports that products as simple as a blender can strike gold with website videos, as did Blendtec, a small Utah maker of commercial blenders now known for its viral "Will it blend?" video. Tom Dickson, CEO of Blendtec, parlayed a series of Web videos showing his appliances pulverizing iPhones, golf balls and cigarette lighters to turn his business into a household name. According to Inc., "Since the video series debuted on YouTube, retail sales of the company's blenders have grown fivefold, to an estimated $10 million, up from $2 million …"
Wallis says website video grows more powerful each day because it accounts for more than half of all Internet traffic. In addition, prospects are six times more likely to remember visuals rather than text alone.
Video stands out and quickly conveys what a company sells and why the user needs it. Equally important, video makes connection with prospects before the salesperson is involved and funnels leads to sales, Wallis says.
Website video delivers a compelling, consistent marketing message every time and it's visual so chances are greater that it will be remembered.
Web videos are also exceptionally versatile and have many applications because they:

Are easily sent by email.
Can be used on sales calls.
Draw traffic to a website.
Can be used at trade shows.
Are easily forwarded and like Blendtec's can go viral through email and social media.
Are media agnostic (work on Web, smartphone, pads, TV).
About Virtual Media Group
http://www.vmgonline.com
Virtual Media Group creates unique video presentations quickly and easily that clearly explain what companies offer, delivering a compelling presentation to prospects before they speak with a salesperson. VMG videos engage viewers, guiding them to pick up the phone and take the next step in the sales process. Videos are easily forwarded, allowing company messages to reach more people than ever. As a result, VMG videos increase sales and decrease advertising costs. Founded in 2009, Virtual Media Group is in St. Louis, Missouri.
# # #
Contact: Kevin Wallis, kevinw(at)vmgonline(dot)com, (636) 375-0905