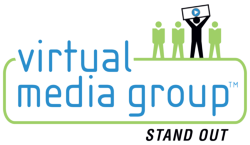 Our website video has helped put us at the top of almost every search engine on the web... We couldn't be more satisfied.

-Scott Schoenbeck, General Manager- OnTarget
St. Louis, MO (PRWEB) November 16, 2012
A leader in web video production, Virtual Media Group, says videos on websites can be highly effective tools for improving sales and attracting consumers. Professional and quality website video is cost effective for companies and is shown in marketing research to engage website visitors, leading to more sales leads and building revenue.
Web video has become one of the most popular forms of media on the internet today. YouTube has an estimated 800 million users on their site and every month they report an average of 4 billion hours of video being viewed. Indeed, just about every major company has a YouTube video channel and even social media sites are experiencing a rise in the number of videos being posted, viewed, and shared.
This growing trend is spreading to company websites as businesses are realizing the value that website video can play in drawing attention and building their sales. Video engages the full attention of a visitor, presenting a full sales pitch without coming on too strong for the viewer.
This is what some companies have to say about videos on websites:
"Our video informs both new prospects and long standing clients about our process, and is the top-of-the-line sales tool in our arsenal."
~ Kyle Landrum, President/Owner, Exhibitrac Direct Marketing
"Our website video has helped put us at the top of almost every search engine on the web. We have a positive marketing tool for years to come. We couldn't be more satisfied."
~ Scott Schoenbeck, General Manager- OnTarget
These companies are clients of Virtual Media Group, which produces quality video media that aims to capture the essence of a company's message while incorporating a number of media forms to attract business.
The real advantage for companies that use video on their websites is the fact that these videos can be used for a long period of time, thus saving the company costs on their marketing plans. For more information about the services that Virtual Media Group provides and to see samples of their videos, please visit http://www.vmgonline.com.
About Virtual Media Group:
Virtual Media Group creates unique video presentations quickly and easily that clearly explain what companies offer, delivering a compelling presentation to prospects before they speak with a salesperson. VMG videos engage viewers, guiding them to pick up the phone and take the next step in the sales process. Videos are easily forwarded, allowing company messages to reach more people than ever. As a result, VMG videos increase sales and decrease advertising costs. Founded in 2009, Virtual Media Group is in St. Louis, Missouri.
Contact Information:
Todd Wallis, President of Virtual Media Group
636-375-0905
Todd(at)vmgonline(dot)com
http://www.vmgonline.com