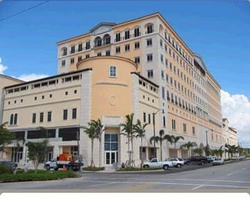 Miami, FL (Vocus) July 28, 2010
Robert Ramsden owner of Office Edge Coral Gables, recently announced that Office Edge has expanded the company's suite of offices by almost 50% as a result of the growing need for virtual office solutions and virtual office space in the south Florida area.
Says Ramsden, "Office Edge present client base includes attorneys, CPAs, financial services, technical and business consulting entrepreneurs, and international satellite offices. Legal clients at Office Edge Coral Gables are well-served by our certified legal secretary, mediation and arbitration conference and breakout rooms, while other virtual office clients make use of our on-site administrative assistants, bookkeepers, and receptionists."
Like other Office Edge locations in Sunrise, Miami and Boca Raton, Florida, Office Edge Coral Gables features virtual office space including executive suites, conference rooms and office space on an as-needed basis for local and outlying area businesses.
Ramsden asserts that many small business owners and entrepreneurs don't require conference rooms or executive-level offices every day, but most do require receptionist and answering services and a professional place to engage their client base. At Office Edge Coral Gables, small and medium-sized business owners and off-shore international businesses gain access to professional support and amenities on an as-needed basis at much lower cost than paying for a full-time office and staff. Ramsden says, "Whenever a small business, large or small, wants to present a polished, professional appearance to its client base, meeting them here in a professional business office cements the message that the client is doing business with a reputable, dedicated, long-term service provider. That alone is worth the price of admission."
About Office Edge
Office Edge provides outstanding virtual office, executive suite, conference room, live receptionist and virtual assistant solutions through a network of Class A offices in Boca Raton, Coral Gables, Miami and Sunrise. Local and global businesses rely on Office Edge to provide a professional south Florida business presence and reliable customized support. For more information contact Robert Ramsden at (305) 777-0200 or visit http://officeedgecoralgables.com .
###