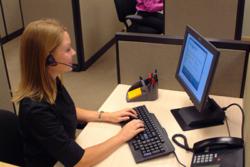 The additional revenue from gaining one or two more new clients a month can easily pay for the cost of the virtual office services multiple times.
San Francisco, CA (PRWEB) August 01, 2012
A May 2012 billable hours survey by LexisNexis reported that 39% of the time worked by a solo or two-attorney firm is not billed, compared to 8% for larger law firms. Among the various reasons hypothesized for the gap are not using staff for non-billable hours and spending time on networking and business development. While client acquisition can be time-consuming, sole practitioners and small law firms still need a robust client acquisition strategy to generate a good flow of new client business. Virtual office solutions are one answer to some of these challenges. See part 1 of this series for background on the growing number of solo attorneys and micro-boutiques (SAMBs) and the various strategies an SAMB can deploy to enhance its professional image.
Unlike in a hierarchical large law firm where partners generate new business and work is allocated to various teams and tiers of associates and support staff, an SAMB has to acquire new clients while simultaneously servicing existing ones. This is not an easy task given the uncertainties and spikes in client inquiries and existing client workloads, and the attorney has to constantly balance the competing needs of new and existing clients.
"Without large marketing budgets, specialized roles, and full-time support staff, SAMBs need smart and efficient solutions for finding and acquiring new clients," says Wilson Tandiono, President and CEO of Intelligent Office San Francisco. "If the solo practitioner is busy all day in the courthouse or meetings, he or she will likely miss potential new clients if phone calls go unanswered. A virtual office can provide remote receptionists to implement lead-capturing strategies, such as providing callers with information about the attorney's practice areas, services, fees, and consultation process. They can also populate intake forms for the attorney and schedule appointments."
By engaging a virtual receptionist to handle and prescreen new client inquiries, SAMBs can acquire more qualified clients cost-effectively without consuming the attorneys' time. Leo Legere, a criminal defense attorney and long-time user of Intelligent Office, claims that the service "has helped generate a lot of new business for us simply by us not losing clients because Intelligent Office is always available." Callers, he further explains, "want to reach someone right away, and if they don't get answers right away, they hang up and call another attorney." Creating an intake form that the virtual receptionists fill out for new inquiries not only captures prospective clients, it saves Legere a lot of time as well. "It is a great prescreening tool for us to determine which are good potential clients," said Legere. When he does consultations, "it reduces the time it takes to interview a client as we get right to the heart of the matter and know what questions to start asking them."
A virtual receptionist can also be an integral element of an SAMB's customer service strategy. "Satisfied clients increase the likelihood of referrals, which is a critical source of new business for SAMBs," Tandiono explains. "A great virtual receptionist can provide an exceptional customer service experience and the appropriate level of connectivity to the attorney – clients will feel that they can get immediate attention and answers without having to talk to the attorney directly every time they call."
In addition, a virtual assistant can perform various routine tasks for SAMBs. These administrative services allow them to manage their time better and concentrate on their work, meetings, and court room sessions without the constant interruption of phone calls. They give SAMBs more flexibility and autonomy in managing their work, without the fear of losing new business.
"The additional revenue from gaining one or two more new clients a month can easily pay for the cost of the virtual office services multiple times, which makes the value proposition very strong," Tandiono asserts. "The SAMB also benefits from the peace of mind and additional flexibility to set its own schedules, which provides the autonomy that these attorneys desire and deserve. The opportunity cost of additional productivity that the attorney gains can be tremendous."
A virtual receptionist can greatly enhance an SAMB's client acquisition strategy and handle many office tasks efficiently so attorneys can focus their time and attention on their legal responsibilities. Moreover, being unchained from the phone promises a significant improvement in work-life balance. Stay tuned for the final installment in How Virtual Office Solutions Can Give Solo Attorneys and Micro-Boutique Law Firms the Competitive Edge.
Intelligent Office's executive office suite, virtual office, conference room rental, and Intelligent Assistant solutions can provide support for entrepreneurs, mobile executives, professional services firms, independent contractors, satellite offices, and small and home-based businesses. Virtual office services can help businesses save on overhead costs and gain flexibility while projecting a professional presence. Visit Intelligent Office's San Francisco location at 100 Pine St, or call 415-745-3300 for more information.
Part 1 of this series can be found at: http://www.prweb.com/releases/prweb/virtual-office/solo-attorney-law-firm/prweb9723553.htm
About Intelligent Office:
Intelligent Office is the leading virtual office service provider for mobile executives and small businesses in North America. The company is headquartered in Boulder, Colo., and has over 50 locations in North America. Intelligent Office helps clients grow their businesses and work smarter by combining professional staffing with the physical and technological infrastructure of a virtual office. For more information on services, go to http://www.intelligentoffice.com/locations/california/san-francisco/san-francisco.aspx. You can also follow Intelligent Office San Francisco on Twitter at @IntellOfcSF, or visit the company on Facebook at http://www.facebook.com/IntelligentOfficeSF.